Daniel Ricciardo (P12): 7/10
It's interesting how several drivers who struggled early in the season and then seemed to rediscover their form over the summer seem to have gone off the boil again. Daniel Ricciardo is one such, in a weekend that seemed tough work for McLaren as a whole. The Aussie didn't break into the top ten at any point in practice and firmly missed the cut at the end of the second round of qualifying to line up in 14th place on the grid for the race. He was caught out when the lights went out and dropped places to George Russell, Kimi Raikkonen and Antonio Giovinazzi although he did gain one place by passing Sebastian Vettel. He was subsequently able to retake the positions from Russell and Giovinazzi by lap 10 at which point Raikkonen also cleared out with an early pit stop, so Ricciardo was running up in eighth by the time he made his own call to pit lane on lap 25. That put him down to 16th, once again tangling with Vettel and Giovinazzi. But a systems failure on the McLaren erroneously started sending some dire fuel consumption data back to the team's garage, which wrongly put most of the second part of the Aussie's race in economy mode. He eventually found himself ahead of Valtteri Bottas after the Finn lost ground with a puncture and then spent the closing laps staring at the back of Pierre Gasly's AlphaTauri, which was having its own fair share of acute disappointments in Qatar.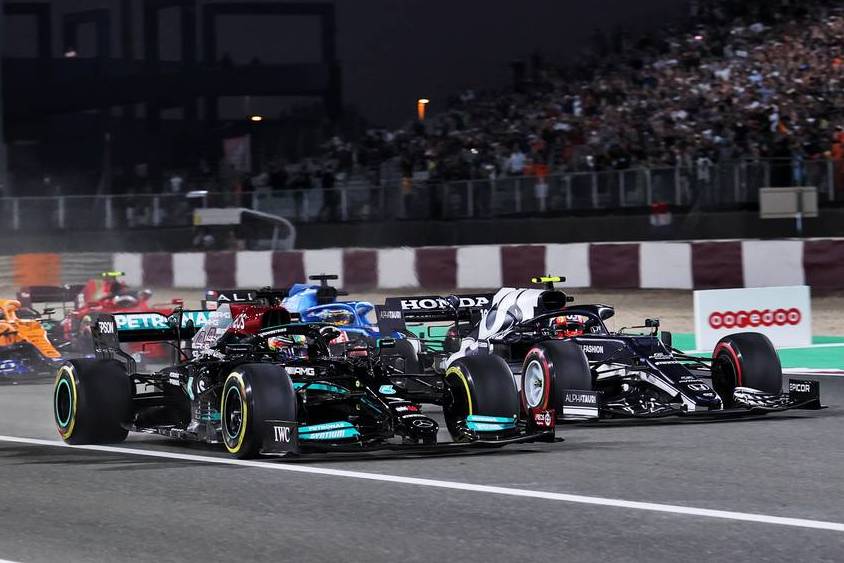 Pierre Gasly (P11): 7.5/10
If the ratings stopped on Sunday afternoon then we'd be arguing why ten out of ten was too low a mark for Pierre Gasly. After a brilliant time in practice - second in FP1 and FP2, fourth in final practice - he replicated that form to put himself onto the second row of the grid for the race. Except that it got even better overnight when grid penalties for Max Verstappen and Valtteri Bottas promoted him onto the front row of the grid alongside pole sitter Lewis Hamilton and a chance to really shine under the floodlights. Unfortunately a less than great start saw him lose out to Fernando Alonso on the first lap, and then Verstappen inevitably came blasting past on lap 3. After that the soft tyres on which he had gambled on starting the race quickly gave up, and once he was passed by Lando Norris for fourth place he decided to pit early which dropped him to 18th behind the two Haas cars. While he regained positions as others made their own stops and was back in fourth behind Alonso by lap 30, a second stop left him pinned behind Sebastian Vettel all the way to the finish where he ended up just outside the points and deeply frustrated about the way things had gone.