Sergio Perez (P4, 12 pts): 8/10
Sergio Perez once again struggled to get up to pace quickly this weekend, and his opening gambit in FP1 saw him down in eighth and more worryingly a hefty 1.192s off the pace of his Red Bull team mate Max Verstappen who had topped the times. He then closed the gap in time in FP2 in the evening session and was only two tenths off Verstappen in final practice, but it all went awry in qualifying when he missed the cut at the end of the second round. "We had everything in hand to really have a strong qualifying but we didn't put it together when it mattered," he confessed afterwards. "I hit a lot of traffic and going out in Q2 is the price we paid ... I think without that issue the pace was in the car." It left him too far out of position to play a significant role in Red Bull's race strategy, but he merrily picked off the cars ahead of him and soon peaked in third place behind Verstappen. The decision to pit a second time meant he missed out on a podium, but the combined efforts of Verstappen and Perez have made a significant impact in the constructors standings where Red Bull are now just five points behind Mercedes with two races to go.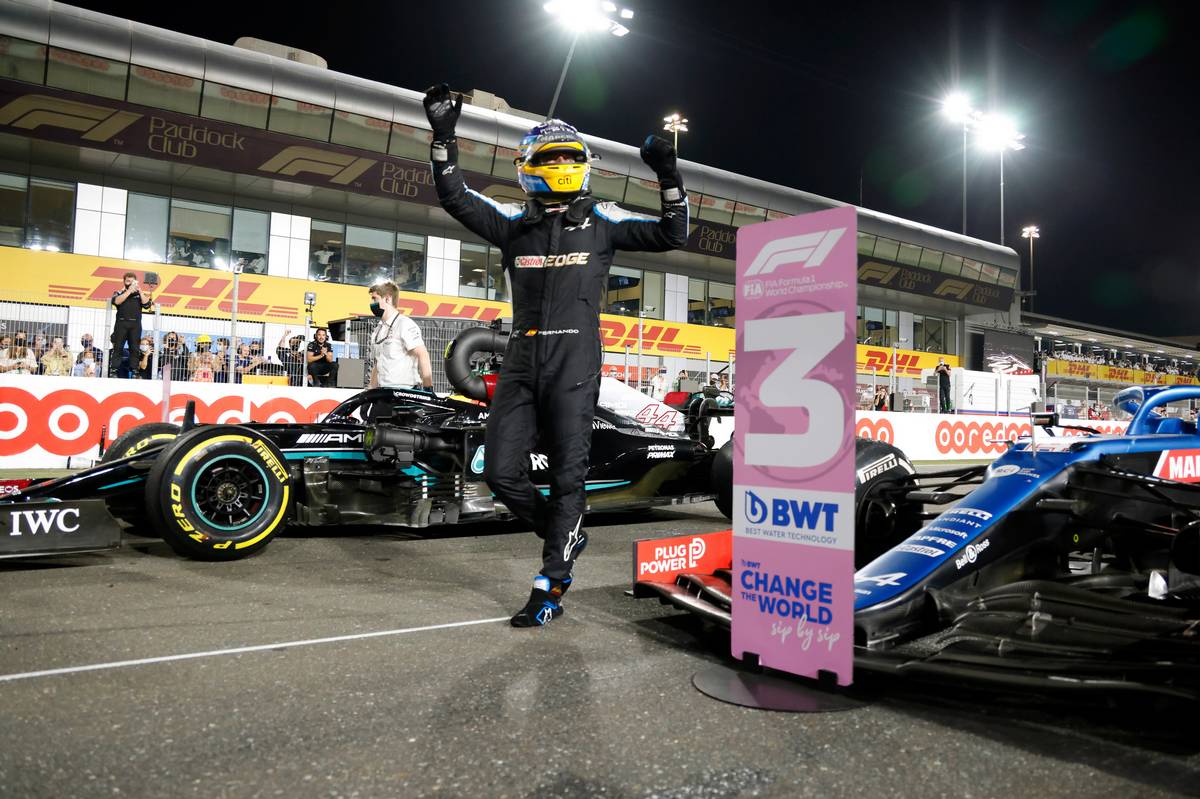 Fernando Alonso (P3, 15 pts): 9.5/10
Well well, look who's back! The last time that Fernando Alonso was on the podium in Formula 1 was the 2014 Hungarian Grand Prix, and the delight of literally everyone in the grandstands at having the two-time former world champion back celebrating up there with the winners was palpable. And it was no fluke, with Alpine as a whole having found something extra special at Qatar which quickly marked them out as ones to watch despite a quiet Friday in which Alonso was a mere 12th in FP2. That improved to seventh in final practice and he followed that through with fifth place in the final round of qualifying, which became third on the grid for the race once Valtteri Bottas and Max Verstappen were handed grid penalties for yellow flag infringements on Saturday evening. That was all the reason Alonso needed to get into high gear for the race: he quickly picked off Pierre Gasly for second on the opening lap before having to cede the position to a clearly much faster Verstappen on lap 5. He maintained third through to the pit stops when he looked to have lost the podium to Sergio Perez, before the Mexican made a second stop on lap 41. There was still a danger that in staying out too long, Alonso's tyres would go the way of those of Bottas, Russell, Latifi and Norris but a late Virtual Safety Car period helped ease the strain and allowed the Spaniard to hold on to that very special third place.