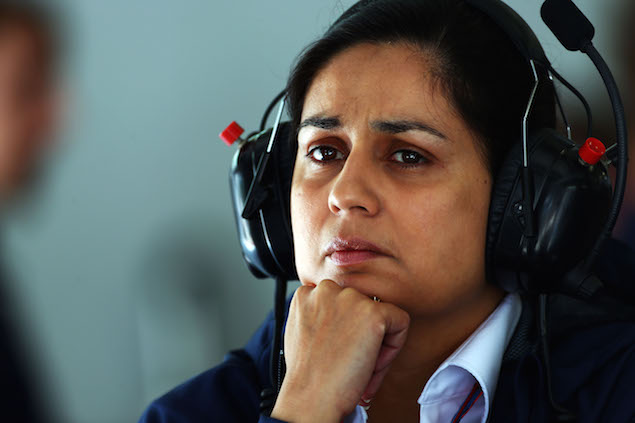 Monisha Kaltenborn says the financial struggles that beleaguer smaller Formula One teams like Sauber is further evidence that "something is fundamentally wrong" with the sport's current structure.
The Swiss outfit is exiting another troubled winter, having had to postpone the introduction of its 2016-spec C35 while payments of the staff's February wages were delayed.
Sauber is one of the three teams – along with Force India and Manor – that were forced to ask for an advance payment on monies owned by the Formula One Management in order to maintain liquidity needs.
"We don't comment on our finances, and I will continue to keep it like this but, referring to the delay [with salaries], it was one delay, which was very regrettable from our side," Kaltenborn said. "It was just an unfortunate set of circumstances coming together at the time they came together. This should not happen anymore.
"I don't know what Force India's reasons were, but we all know that the first three to four months are the most cost-intensive, where you really have to have your car ready to hit the road.
"That's the system we all opted for many years ago when we said that FOM money kicks in later. That's something we all wanted. What happened with us was very unfortunate – the way things came together and the timing particularly, which took us by surprise."
Kaltenborn explains that seeing other outfits scrape by does not assuage Sauber's fears and anger about the way F1 is run.
"It doesn't really give you any comfort if you know that others are suffering as well. You can't look at yourself and give an excuse and say 'I can't do this and, by the way, five others can't do it as well' because you have to look at your own people. It unfortunately just says what situation the sport is in.
"This has got nothing to do with the product; these are commercial matters. Some of them are the result of the technical regulations at the moment and it's high time something is done about it.
"If you try to explain to people out there the kind of income the sport generates – and it has, year by year, gone up if you look at the last few years – yet so many teams are having issues, this can't be right. Something is fundamentally wrong in the sport."
Sauber and Force India both lodged a complaint with the European Union opposing F1's governance and payment structure last September.
Technical focus: 2016 F1 power units
FEATURE: A long wait - France's 20-year win drought in F1
Keep up to date with all the F1 news via Facebook and Twitter