Barcelona's familiar Circuit de Catalunya will offer F1 teams a second - and better - opinion of the upgrades many introduced last week in Monaco.
But save for Ferrari, which has brought a practically new car to Spain, there were comparatively little changes of significance among the field.
Ferrari has followed Mercedes' lead and developed a new sidepod design for its SF-23, with a concept that has moved away from the in-wash solution introduced by the Scuderia last year and towards a Red Bull-style downwash profile.
"This development focuses on flow conditioning towards the rear wing assembly and rear corner, combined with a different cooling flow management, for overall car efficiency improvements," the Scuderia.
The change is accompanied by a new floor edge as well as by a circuit-specific revised top rear wing profile that caters to Barcelona's aero characteristics.
For now, Carlos Sainz is the sole recipient of Ferrari's new bodywork.
Red Bull is still pressing on with its dominant car's development, with its RB19 integrating changes to the profile of the top corners of its diffuser, as well as a revised edge profile to its floor.
After rolling out its new-spec W14 in Monaco, Mercedes has implemented a few more updates on its contender that include the removal of the upper mirror vane, which it says will now allow for improved flow quality to the rear of the car.
Also noted was a change to the diffuser sideview profile that will allow more flow into the diffuser and a better quality of the flow to increase local load.
Over at Aston Martin, the team's AMR23 appeared in Barcelona with modified front wing flaps crafted to improve load distribution and downstream effects. Tweaks to the front wing endplates have been made to improve how the latter interacts with the tyre behind it.
Furthermore, the nose camera incidence on the AMR23 has been modified to improve local downstream conditions. Minor detail changes were also made to the rear wing endplate while two different beam wings have been added to suit the new endplates.
McLaren has added a new front brake duct vane and winglet shape, resulting in an improvement of flow conditioning leading to an overall aero load increase.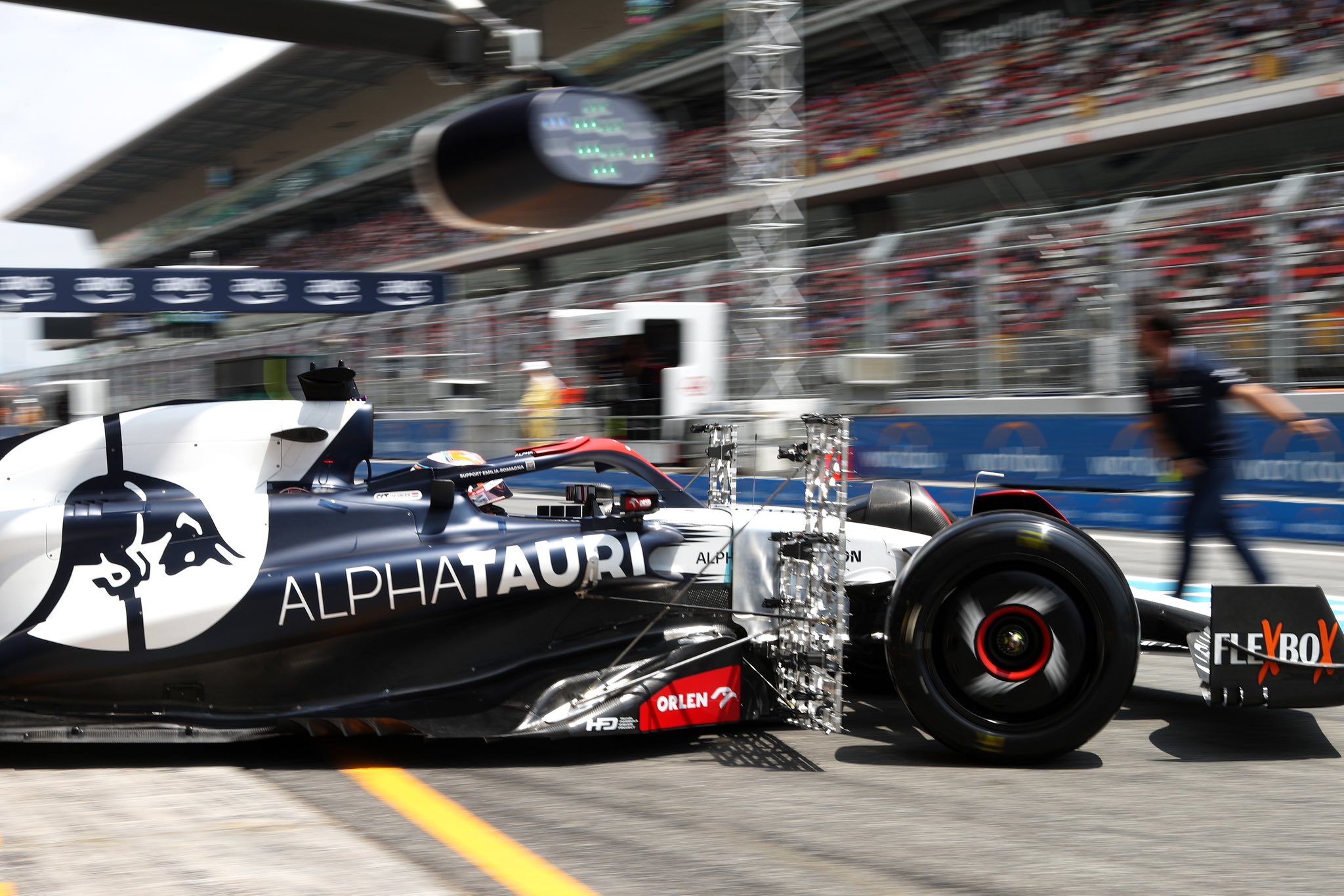 AlphaTauri has mounted a new rear wing on AT04 featuring increased camber and incidence that will achieve improved downforce generation for cornering and drag reduction for straight line performance.
Williams' FW45 features in Spain a new, longer Gurney flap on its front wing to help balance the rear downforce in the high-speed corners. The car also has an option exit duct on its bodywork to improve cooling.
No updates were listed by Alpine, Alfa Romeo and Haas.
Keep up to date with all the F1 news via Facebook and Twitter