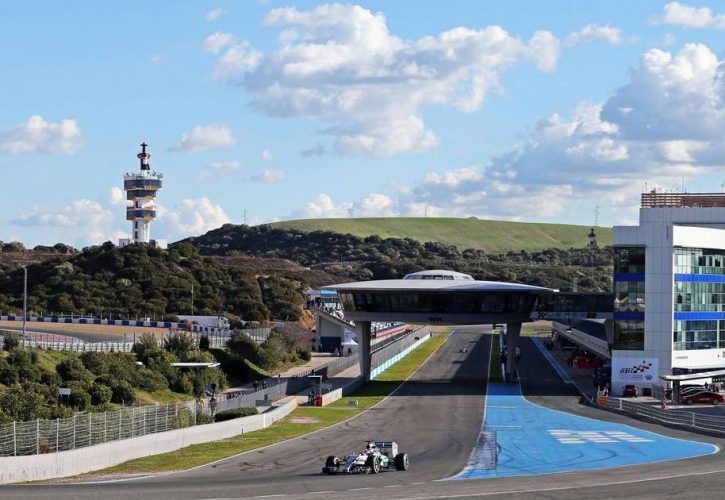 Jerez de la Frontera, the home of the Spanish Grand Prix in the late 80s and early 90s, is reportedly in talks with Liberty Media to host once again the country's F1 event according to Spanish media.
The 4.4 k circuit located south of Seville in Andalusia last hosted an F1 event in 1997, a season-finale run under the European Grand Prix banner and memorable for its title deciding showdown between Jacques Villeneuve and Michael Schumacher.
Spanish media is reporting that Jerez and Liberty Media have initiated talks to take over the Spanish Grand Prix from 2021, a move that could undermine Barcelona's own efforts to extend its current agreement with F1 beyond 2020.
Financial woes had put the event at the Circuit de Catalunya in doubt earlier this year, but funding secured from the local government of Catalunya has guaranteed the race's presence on next year's calendar.
Some reports in Spain are going as far as to claim that a preliminary deal between Jerez and Liberty was signed in London recently, with Jerez agreeing to a three-year contract and a €22 million annual franchise fee, part of which would be bankrolled by the regional government of Andalusia.
Mamen Sanchez, the mayor of Jerez de la Frontera, confirmed the ongoing negotiations.
"The City Council has been working for two years to get Formula 1 back to Jerez," said Sanchez.
"We are the administration that has started this but as a reminder we have a confidentiality agreement, so that I hope and wish that those who divulge the news first will not upset the negotiation."
While Jerez is an FIA Grade 1 circuit eligible for Formula 1, it remains to be seen what infrastructure work might be required to be bring the venue up to modern F1 standards.
Over the years, Jerez has remained a mainstay on the MotoGP calendar, but the track was last visited by F1 in 2015 when it was the venue of choice for pre-season testing.
Gallery: The beautiful wives and girlfriends of F1 drivers
Keep up to date with all the F1 news via Facebook and Twitter