A video recently published by Mercedes on Twitter suggests that the team's future W11 that will be raced next season by Lewis Hamilton and Valtteri Bottas is following a new aero concept.
Since 2014, the Silver Arrows outfit's cars have dominated the F1 world championship, with their creators embracing their own design philosophy and shying away from trends.
For instance, this year the Mercedes W10 was the only 2019 design not to adopt the high-top sidepod/air inlet initiated by Ferrari in 2017 and endorsed by most of the teams in 2018.
But it appears that Mercedes has now followed suit based on the video showing Valtteri Bottas' seat fitting at Brackley and posted last week on Twitter, with the always attentive F1 techie Craig Scarborough singling out a specific detail, also on Twitter.
In these pictures, captured by @ScarbsTech, one notes the lower location on the W11 tub of the side impact protection spar (SIPS) mounting, hinting to a potential external aero change.
Comparing with photos of the W10 (2019) and W09 (2018), the distance between this mounting and the edge of the cockpit is clearly greater on the W11 (see yellow arrows hereunder) than on its predecessors.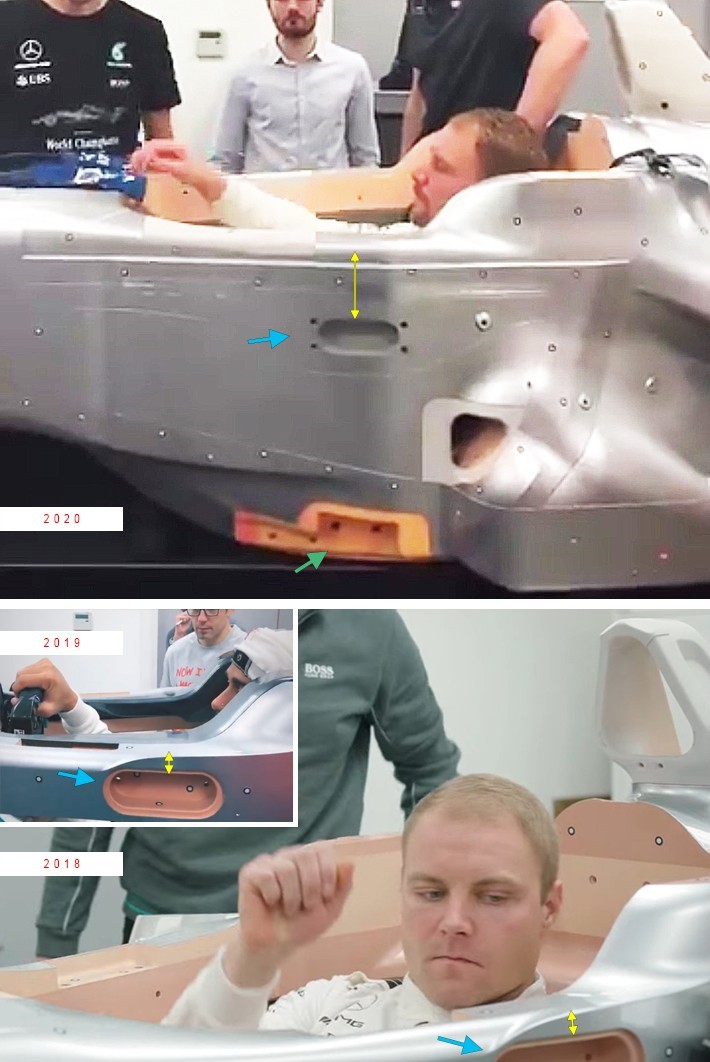 Clearing the "UNDERCUT"
The SIPS housed within the sidepod requires an optimal positioning in order to ensure minimum disruption of the airflow to the radiators.
In this image, which Mercedes may have divulged inadvertently (the video has since been taken down), it appears that an effort has been made to create a larger space under the inlet.
This area, called the "undercut", plays a crucial aerodynamic role. Simply put, the more air passing under the inlet through this larger space, the more the flow shall be energized and remain attached to the car.
The deeper part of the undercut shapes the airflow around the sidepod and towards the rear of the car. A taller undercut allows for more fluid and energized air to be directed to the car's diffuser. The energized flow also helps keep air attached to the car, reducing drag in the process while increasing the efficiency and performance of the diffuser.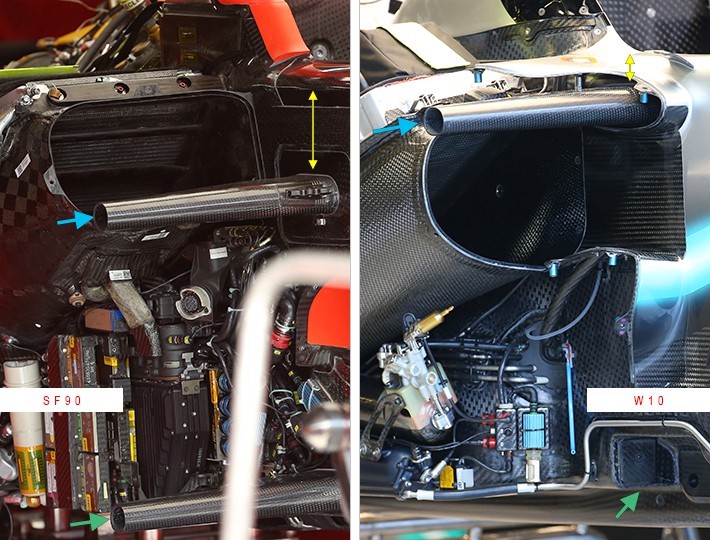 So Mercedes' high-top inlet approach therefore requires a lower positioning of the upper SIPS (blue arrow here-above on the right), similar to the Scuderia's SF90H (here-above on the left), while the position of the lower SIPS (green arrow) remains unchanged at the basis of the tub.
The fact that Mercedes took down the video hints that changes are likely in store regarding the architecture of the W11's sidepods.
However, the 2020 Silver Arrow should keep its signature long wheelbase and low ride-height and rake. But surprises are always possible.