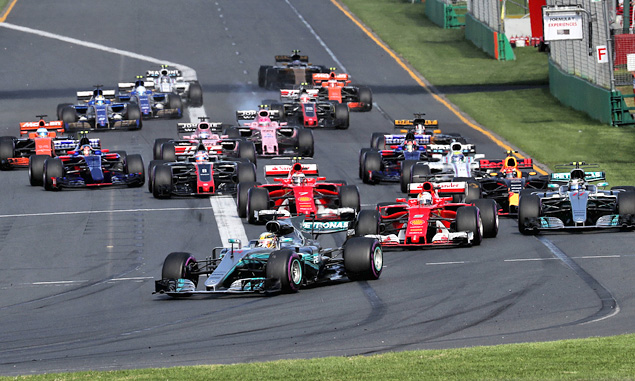 Mercedes boss Toto Wolff has admitted that a mistake in race strategy cost them any shot at a win in Sunday's Australian Grand Prix.
Lewis Hamilton led for the first 17 laps but pitted much earlier than Sebastian Vettel. Vettel was able to use the opportunity to take the lead, and the Ferrari then romped to its victory since 2015.
Wolff conceded that the early pit stop had been a factor in how the race developed. "Today it was probably a few laps too early," he told the Formula 1 website on Sunday.
"We try to take all information on board that we had to make this call," he explained. "Grip levels, tyres temperatures, the driver's feedback - that all led to this decision.
"It is never the decision of a single person.
"There was the risk of the undercut and we all thought that the tyres wouldn't last any longer. That made us take the decision to pit to avoid the undercut.
Matters were made worse when Hamilton came back out right behind Max Verstappen. The Red Bull delayed its pit stop long enough to allow Vettel to build up a big gap at the front.
"Coming out behind Max, who was fighting his own race, lost us the race," agreed Wolff. "We thought that Max would pit earlier and then Lewis would be in free air. It was a combination of variables that went against us."
But Wolff insisted that strategy alone hadn't been the reason why Hamilton had been forced to accept second place in Melbourne.
"As a general summary we weren't quick enough. That's why Sebastian is the deserved winner," Wolff said. "The Ferrari was simply the quicker car today. The way Sebastian held on to Lewis was simply surprising. We were pushing flat out but were not able to pull away.
"For sure we could have done better. Would we have been good enough to win? I don't know.
"Sebastian could have attempted the undercut at any stage and it could have come up the same way. But why we didn't have the pace at the beginning of the race, in these conditions – I don't know.
"We will come out stronger out of this weekend," he added. "We didn't have a great pre-season and we haven't had a great Sunday today, but we will leave no stone unturned to get better."
GALLERY: all the pics from Sunday's action
Keep up to date with all the F1 news via Facebook and Twitter