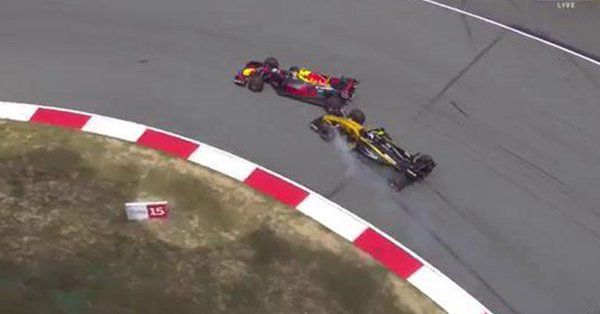 Jolyon Palmer clearly put the blame on Max Verstappen for the pair's clumsy collision in the closing stages of Saturday's free practice session.
Palmer was on a fast lap when he crept up from behind and attempted to pass the Red Bull driver on the inside of Sepang's final corner.
The subsequent contact left the Renault driver with a damaged front wing while Verstappen made his way back to the pits with a puncture.
"I was on a quick lap, he was on a slow lap," Palmer told Motorsport.com.
"The slow driver should get out of the way. You're not allowed to impede on a fast lap, but he stayed on the line so I went on the inside and broke 20m early and took a lot of caution, but then he also took his apex which I didn't expect.
"If you're trying to prepare the lap, you're normally wide there anyway. I just don't really understand why he was on that part of the track.
"If you're preparing for a lap, no-one is ever on the off-camber bit on the inside. Everyone is getting right to the outside and getting the best drive possible."
"I think it was a silly incident and you don't want that sort of thing in FP3."
Both drivers were summoned to the Stewards and while no further action was taken, the two men were at odds with each other over the cause of the run-in.
"His view is he is allowed to impede me, my view is it was silly for him to do that really," he said.
"It's just a respect thing really, to respect my fast lap.
"This weekend I've let many people past in the last corner. If you're not far enough ahead, let them go because they're on a quick lap. Then you start the lap behind them, they do their fast lap and get out the way so everyone can be happy.
Gallery: The beautiful wives and girlfriends of F1 drivers
Keep up to date with all the F1 news via Facebook and Twitter