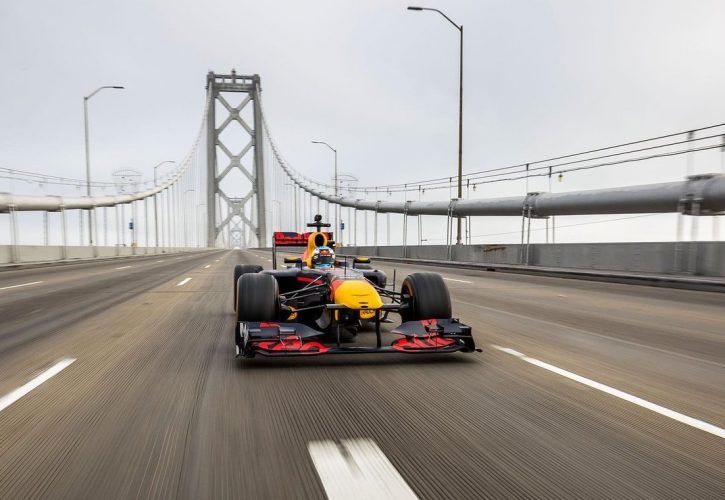 If it's a wacky proposition from Red Bull, then there's a strong chance Daniel Ricciardo will be their man.
The Aussie's idea of F1's summer break is a few lazy weeks at a sun-soaked beach listening to the sound of the surf. But say 'road trip' and the Honey badger is game, especially if it's in a championship-winning F1 car, the Red Bull RB7.
Follow the sun, they said. So the Red Bull crew naturally kick-started its journey on the West Coast with an early morning crossing of the Golden Gate Bridge, before heading downtown to scare the pants off the city's early risers with a flat-out blast through the streets of San Francisco.
Next up, Ricciardo heads for the wild, wild west, racing through one of America's most beautiful landscapes, Utah's Monument Valley.
Now, much though Daniel loved powering past the towering mesas of this incredibly scenic corner of the US, he did admit to feeling a little bit isolated out in the badlands, and so he suggested a little detour south, to Sin City itself, Las Vegas, Nevada.
And under the glittering lights of the Strip is where the first installment of the mammoth transatlantic road trip ends.
Take a look at this epic slice of Americana.
16