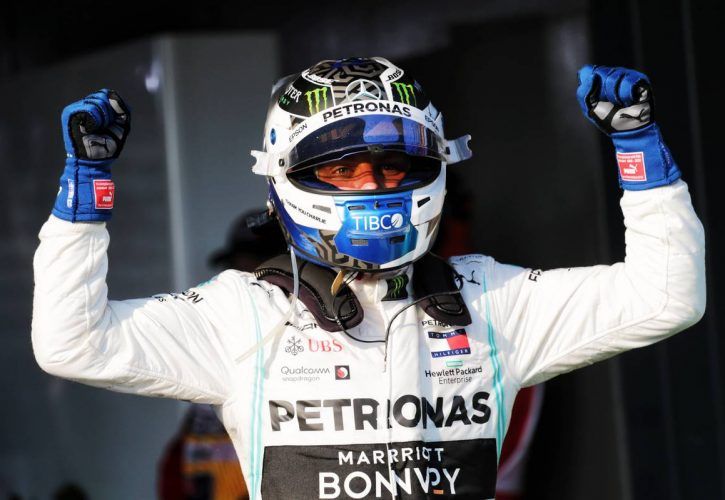 Valtteri Bottas doesn't know how he did it, but the Mercedes driver does know that the 2019 Australian Grand Prix was his best race ever in Formula 1.
Bottas gained the upper hand over team mate Lewis Hamilton at the start and never looked back, running away with the race and achieving a crushing win over the reigning world champion.
Asked on the podium by Mark Webber what he had eaten for breakfast, the day's winner said he had enjoyed a simple bowl of 'porridge'. It was an underwhelming answer for a stand-out performance.
"I don't know what to say," said a bewildered Bottas when it was all done and dusted.
"The start was really good. It was definitely my best race ever. I don't know what happened, I just felt so good and everything was under control.
"I've never had a race like this with such a margin.
"The key point for me was the beginning of the race. I did have an optimal start for the grip level I had on the right hand, so that was the key.
"And then being in the free air, being able to control in the beginning, and then lift up the pace, step by step, I just had a really good feeling with the car today, it felt just enjoyable.
As dominant and smooth the performance appeared to be from the outside, Bottas insisted a race win is never a walk in the park.
"You know, it's never easy but your brain tricks you it says it kind of feels easy, but it isn't," he added.
"There are so many things that can go wrong, and to be to get that king of gap to your team mate is never easy, but everything was synchronized together with me and the car today."
"The car was so good today. Truly enjoyable, and I need to enjoy today."
To add insult to his rivals injuries, Bottas also snatched a championship point for fastest lap, stealing that prize from Max Verstappen on the penultimate lap!
"I knew it's a new rule for this year, as I had really strong pace I wanted to go for that in the end," said Bottas of the revived fastest-lap point.
"It's always risky with the worn tyres but it was worth it. [I'm] happy and can't wait for the next race."
Finally, in the FIA drivers press conference, after the last question from the floor had been asked, a moved Bottas dedicated his win to Charlie Whiting. 
"I just want to say: thank you Charlie. This win is for Charlie and all his work for Formula 1.
"He's done massive amounts. What he's done, it means a lot to all us drivers."
Gallery: The beautiful wives and girlfriends of F1 drivers
Keep up to date with all the F1 news via Facebook and Twitter