It's been a long way back for Honda since their heyday in Formula 1, but at long last they have found success as engine manufacturers for the first time since 2006.
The Honda-powered Red Bull crossed the line first in a dramatic Austrian Grand Prix on Sunday. However the race remains under investigation by the stewards due to the way that Max Verstappen passed Charles Leclerc with three laps remaining.
Not that the uncertainty did anything to dampen the celebrations for Honda, who had previously endured some dark times with McLaren in recent seasons before signing up to partner Red Bull over the winter.
"We've spent a long time trying to achieve this win, but we've learned a lot in previous years before working with Red Bull," Honda Racing F1 Technical Director Toyoharu Tanabe told Sky Sports F1 after the race.
"We're very happy today to get a win, but today is just the first step," he added.
"We'll keep pushing very hard until the end of the season, and into next year as well."
Honda had been under pressure from Red Bull motorsports consultant Dr Helmut Marko to take more risks in order to provide the team with more powerful engines and better performance as a whole.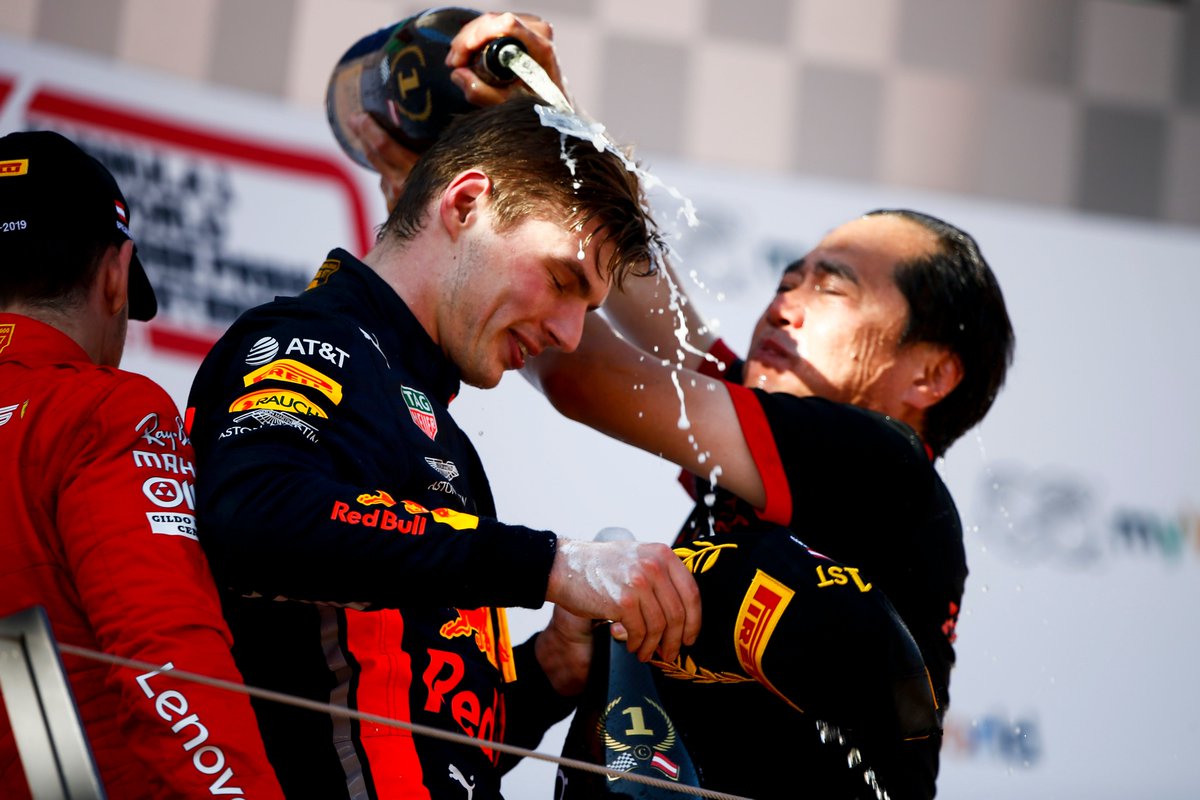 But Tanabe said that Honda knew how best to achieve the results required.
"We are engineers, so we know the limits," he said. "We push the performance right up to the limit.
"But they really want us to bring some more performance, so we pushed really hard."
Tanabe also spoke glowingly of the relationship that the Honda team had developed with Christian Horner, Adrian Newey and the rest of the Red Bull senior engineering team.
"We are very comfortable working with them. They have very experienced engineering people," he said.
"They are open-minded, we can discuss everything. and their decision making is quick and precise, so we are very happy," he said.
Today's success couldn't have come at a better time for Honda, with rumours that the manufacturer's senior management in Japan will soon meet to review whether the F1 project will continue.
"I'm pretty sure there is a decision making process going on as to whether they're continuing in Formula 1 post-2021," commented Sky Sports F1 commentator Martin Brundle.
"This kind of result is imperative to the feel-good factor they need when they're sitting as a board in Tokyo or wherever and making the decisions about the investment, about the commitment, about the association with F1."
"They could even increase the investment," suggested Paul di Resta. "If they can see the difference, and they can see a team like Red Bull with the resource they've got, if they pour more money into it then they're going to get it.
"They're already successful - Honda and Red Bull - in MotoGP, obviously, where they've had a history of that.
"They've got the right driver in the car to do it [in F1] and to crack on with it," he added. "I'm excited to see the reaction they get from this because I think this is a massive step."
Gallery: The beautiful wives and girlfriends of F1 drivers
Keep up to date with all the F1 news via Facebook and Twitter