Mercedes fears that Ferrari would give the German team a run for its money at Spa are panning out as expected.
On pure pace, poleman Charles Leclerc and Sebastian Vettel are clearly in a league of their own in Belgium, where Spa's long straights cater to the SF90's low downforce qualities and to the force of its powerful engine.
Vettel blew past the speed trap at 317.7 km/h in qualifying. That's a healthy amount of velocity but it's not quite as fast as the top speed recorded at Baku earlier this year, where McLaren's Carlos Sainz was clocked at 323 km/h.
Renault's Daniel Ricciardo was snapping at Vettel's heels up the Kemmel straight with a straightline speed of 316.9 km/h, just edging Leclerc.
After qualifying, Lewis Hamilton underscored Ferrari's advantage in Spa's first sector, and the readout shows that Mercedes' drivers were on average about 8 km/h slower than their red rivals up the straight.
Many call Ferrari's advantage at Spa this weekend an 'open goal' for the Scuderia. Let's hope they can finally score that first win.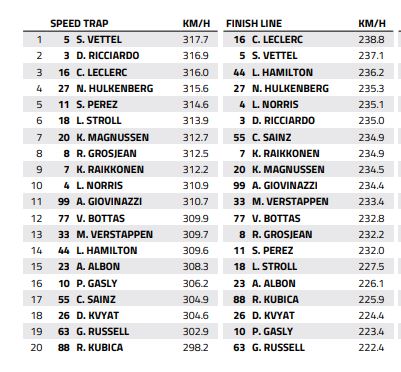 Keep up to date with all the F1 news via Facebook and Twitter