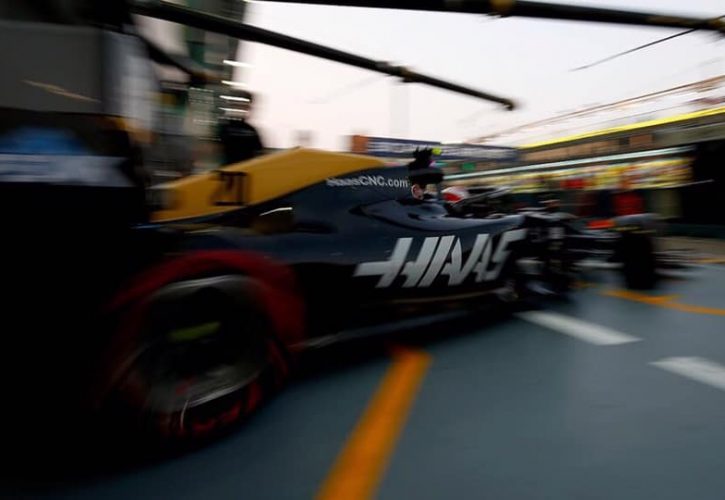 Haas will tackle next weekend's Russian Grand Prix in Sochi with a blend of old and new aero elements implemented on its VF19.
The US outfit has been locked in a set-up conundrum since the start of the season, after a succession of aero updates in the first part of the year failed to improve the performance of their 2019 contender.
At the start of the summer, Haas reverted Romain Grosjean's VF19 to its initial Melbourne spec while new developments were implemented on Kevin Magnussen's car
The spec-to-spec comparison was halted after the summer break when both drivers used the same German Grand Prix specification, but for Sochi, the team will rely on a amalgam of old and new aero parts, although both its drivers will race the exact same hybrid package.
"At the moment, we're in a phase where we know what the car is doing, we're just trying to find the better spec for each circuit – that's why we're doing it," explained team boss Guenther Steiner.
"We're not experimenting with it anymore. We're actually putting the packages on how we think it is best suited."
The knowledge gained from the team's various 'experiments' aimed to shed light on the VF19's complex issues regarding tyre usage, but the insight has also been crucial in terms of preparing for 2020.
"Obviously, all this work is brought forward to next year, because next year's car will be an evolution, as there's no regulation change," added Steiner.
"This year it was a new regulation, so whatever we learn on this car we can implement on next year's car.
"That was our aim from halfway through the season when we realized we were struggling with our car.
"We want to make sure not to make the same mistakes on next year's car – that was our main aim from midway through this season."
Gallery: The beautiful wives and girlfriends of F1 drivers
Keep up to date with all the F1 news via Facebook and Twitter