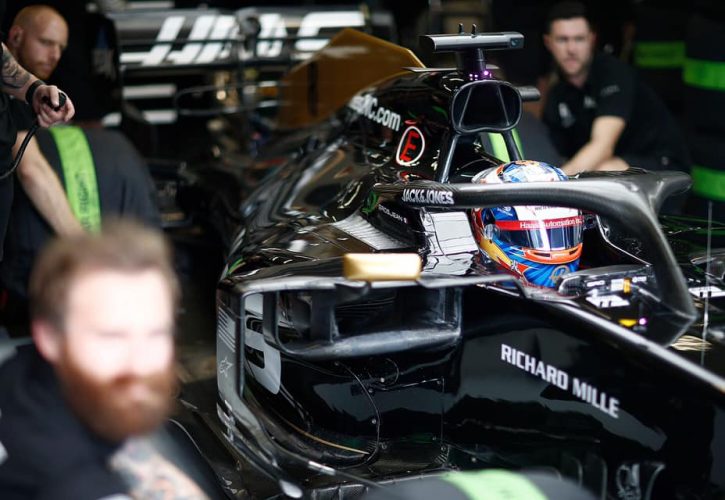 For the first time this season, Haas will correlate its performance this weekend in Abu Dhabi with a live simulator support program running at Dallara in Italy, testing the process in preparation for 2020.
Haas test driver Pietro Fittipaldi will be on duty at Dallara's headquarters in Varano, testing in the manufacturer's simulator set-ups and settings destined to support the efforts of the US outfit's drivers at Yas Marina.
While Formula 1's front-running teams regularly use their reserve drivers in a simulator role back at their factory to help accelerate and validate settings or solutions, it will be the first time this season that Haas undertakes a process which it hopes to exploit on a regular basis in 2020.
"We're starting to use it this weekend, but just as a trial, to see if everything works and make sure everything is in place for next year," explained Haas team principal Guenther Steiner.
"We're doing a trial [to see] if the system works, if everything works, then we have control of it.
"It will not be a help for the race track, it will be more if the system works - if we've got everything in place, if we can communicate efficiently, if everything works how we want it to work.
"It's basically a rehearsal of the process, not of the performance of the car. Maybe we'll get something out of performance, but the aim is not that one, it's more to try the system out.
"It's a step we need for next year to get better, working for next year."
Initially, Haas' live simulator program was scheduled to be introduced earlier in the year, but refining the system has taken longer than expected.
"It took longer than we wanted it to take. It's a difficult task because you don't realise until you do it how many years teams had to do what they did in the last 10-15 years in six months," Steiner said.
"We've still got work to do to make it a better system, but it's a first step. It just took longer than we anticipated.
"There was not one thing that was wrong, but we tried to do a lot, and we didn't achieve it. Or we achieved it, just a bit late."
Gallery: The beautiful wives and girlfriends of F1 drivers
Keep up to date with all the F1 news via Facebook and Twitter