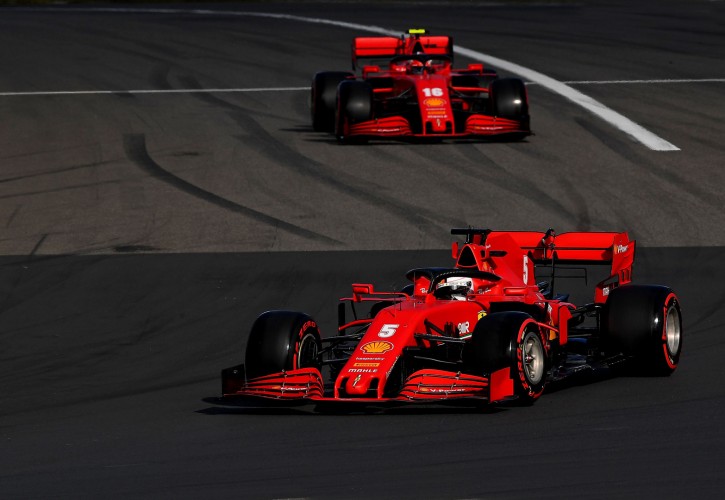 Ferrari sporting director Laurent Mekies believes that teams' lack of long runs at the Nürburgring will deliver a few surprises in Sunday's Eifel Grand Prix.
Friday's entire day of running was scrapped by the adverse weather conditions that lingered over the Ring and which impaired the operations of F1's medical helicopter.
The lost mileage inevitably disrupted the teams' programs, leaving everyone with just a 60-minute practice session on Saturday morning to prepare for qualifying.
Mekies says the lack of long runs, during which teams typically evaluate tyre degradation, coupled with Sunday's cold temperatures are likely to throw a spanner into the works of several teams' plans on Sunday afternoon.
"I think if someone could draw the relative race pace now, they would be very, very talented," said Mekies after yesterday's shoot-out session.
"I don't think it will be an exact reflection of qualifying at all. I think there will be surprises because we haven't had the chance to do the long runs.
"So, that part of the tyre life and performance is an unknown, we'll make a good challenge in terms of how fast teams will be able to read the race in the opening laps and to adapt to whatever is going to be thrown at us.
"It's probably a good format for everybody to get a little less perfection."
Mekies views the Eifel GP's forced two-day schedule - a compressed timetable that will be deliberately repeated at next month's Emilia Romagna GP at Imola - as a challenge that teams should "embrace".
"As a team we are all competitors and racers and it's a very challenging and positive aspect to go into the race with the consciousness you will need to read something you haven't prepared for and to react to, so that's very good," said the French engineer.
"That's a challenge we are all embracing.
"There is a lot of different answers you will get into these sorts of weekends because again all the teams are putting a huge effort into preparing before they arrive with simulations, all these would be to try and to be in the best possible shape on Friday.
"But then of course on Friday, you learn just a lot, to what the reality of the racetrack is from whatever your information has told you.
"Somehow to have a weekend without that, is also giving us indications about our preparations, so there are always things to learn and will want to improve on such a weekend."
Gallery: The beautiful wives and girlfriends of F1 drivers
Keep up to date with all the F1 news via Facebook and Twitter