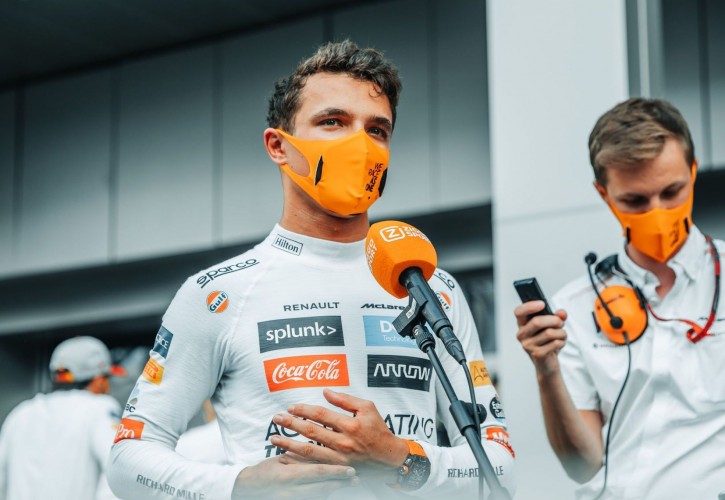 Lando Norris admits he may get angry in the heat of the moment and mutter a negative comment on a rival, but the McLaren charger insists  he is a "nice guy" who wishes nothing bad on anyone.
Norris offered a public apology after the recent Portuguese GP following a few "stupid and careless" words he had distilled to the media mainly relating to Lewis Hamilton, whom the young Briton said is in a car "which should win every race" and who only has to beat "one or two other drivers".
At Portimão, Norris also took at Racing Point's Lance Stroll after the pair came together in the race, insisting the Canadian "doesn't seem to learn with anything he does".
Revisiting his recent comments in an interview with Brazilian website UOL, Norris said that a burst of anger expressed at someone in the heat of the moment is often wrongly interpreted by others, but that fundamentally he is a "nice guy".
"I feel like I try to be a nice person and do the right things," he explained. "I get angry like everyone else gets angry.
"My radio message was the emotion of wanting to do well and score points for the team and someone goes there and ruins it.
"Of course, I get angry and say the things I said. I understood that they were angry with me, but I'm sure that everyone gets angry with someone else.
"Just because I talked on TV, people make comments and pretend they are superheroes who would never say something like that. And we know that this is a lie," added the 20-year-old.
"People always think that we are heroes in F1, and maybe some are. But I'm just a normal guy who gets mad when someone ruins my run and gets angry when people make comments that you wouldn't want them to do.
"Sunday at the Portuguese GP was one of those days, when I was reading the comments. When I spoke, my idea was not to be negative, I didn't want to hurt anyone.
"It was my opinion. Sometimes when you speak, you don't think how people will interpret it. It was not my intention. I'm a nice guy - I try to be a nice guy - and I don't want to direct hatred towards anyone. I may be angry with someone, but I wish nothing bad for anyone."
Asked whether he could put one over on Hamilton if both drivers were in the same car, Norris steered clear of firing back a confident reply.
"It is something that I cannot answer until it happens," he said.
"I'm sure every driver on the grid wants to do the same thing because everyone knows that Lewis is probably one of the best drivers of all time in F1.
"And everyone is jealous of his position, winning all these races. It is the position that everyone wanted to be in.
"But it is not something that can be answered. I'm sure some will say "me, of course". But I'm not that kind of overconfident guy. One day, maybe, we'll find out. I would love for that to happen."
Gallery: The beautiful wives and girlfriends of F1 drivers
Keep up to date with all the F1 news via Facebook and Twitter