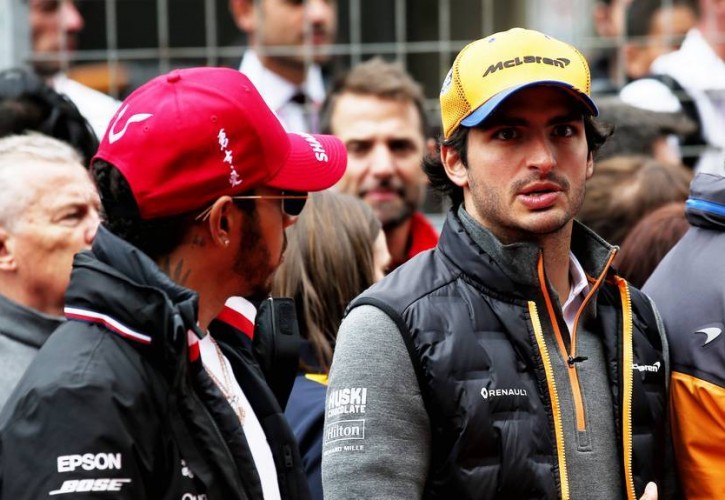 Carlos Sainz agrees with Max Verstappen's claim that 90% of F1's drivers would win with Mercedes, but the Spaniard insists few would defeat Lewis Hamilton at the wheel of the same car.
Earlier this season, Verstappen boldly stated that Mercedes' dominance was such that its Black Arrow contender would win in the hands of almost any driver on the grid.
"I have a lot of respect for what they've achieved," said the Dutchman at the time. "I'm not frustrated about Lewis in a Mercedes car.
"To be honest, 90 per cent of the field could win in that car. Nothing against Lewis, he's a great driver, but the car is so dominant."
Sainz shared his former Toro Rosso teammate's view but extended his thought to include an important caveat.
"I agree with Max that 90 per cent would probably win in the Mercedes, in the race and qualifying," the McLaren driver told Motorsport-Total.
"But if you put half of the field against Hamilton in a Mercedes, then 90 per cent of them would not beat him.
"If you take Hamilton out of the competition, however, then everyone in the current field would probably win in a Mercedes.
"That describes quite well what is happening in Formula 1 today, but also that Hamilton is one of the very best – even if he has the best car."
Sainz says that F1's newly crowned seven-time world champion boasts qualities and a skill-set that often confer an edge over his rivals.
"I look very carefully at how Hamilton delivers under pressure," Sainz added.
"How he manages to master all sectors so well in Q3 and to take pole position, even if he only has a small lead over Bottas.
"In Austria, he beat Bottas by a second and a half in the rain. He can do things that not everyone can do. But I would have to be his team-mate to give even more details."
Gallery: The beautiful wives and girlfriends of F1 drivers
Keep up to date with all the F1 news via Facebook and Twitter