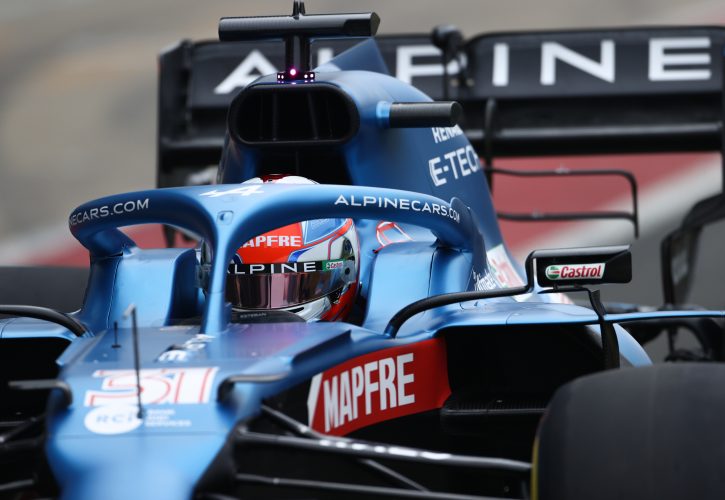 Alpine F1's Marcin Budkowski says he is taking inspiration from his golden era days at Ferrari as an engineer to help build Renault's rebranded team as its executive director.
Budkowski, who started his career in F1 in 2001 as an engineer with Prost GP, enjoyed a five-year stint at Ferrari as an aerodynamicist from 2002 to 2007, during the Scuderia's massively successful golden era in F1.
Ferrari's famous dream team, spearheaded by Jean Todt, flanked by Ross Brawn, designer Rory Byrne and Michael Schumacher won six consecutive F1 Constructors' titles, three of which were secured during Budkowski's tenure with the dominant Italian outfit.
Those triumphant years yielded many good memories for the 44-year-old Alpine F1 manager, but also an abundant number of useful lessons that are inspiring him today although in his management role with the French outfit.
"[It was a] different era. I was extremely lucky in my career," Budkowski remembered during Alpine's presentation last week.
"I was an engineer; I was contributing to the development of the car. Now I'm much more in a management position and contributing to the performance of the organisation rather than the performance of the car itself.
"But certainly being a part of such a successful organisation, one that was part of dominating the sport at the time, is something you remember."
Developing Alpine F1 into a winning powerhouse like Ferrari once was is a tall order, but Budkowski is determined to capitalize on his past experience to help drive his team forward.
"You remember some of the things you were doing right and certainly that's something I take inspiration from now in my management role to try to build a team as strong as the one we had at the time.
"I started at Prost Grand Prix with Alain Prost, who is now a special advisor to our team. I was extremely lucky to be part of an era at Ferrari under Jean Todt with Ross Brawn, Rory Byrne and Michael Schumacher, all these great names. Some of them are still key names in the sport.
"Mattia Binotto was there, James Allison, the old team-mates from this period. But it was a completely different role at the time."
Gallery: The beautiful wives and girlfriends of F1 drivers
Keep up to date with all the F1 news via Facebook and Twitter