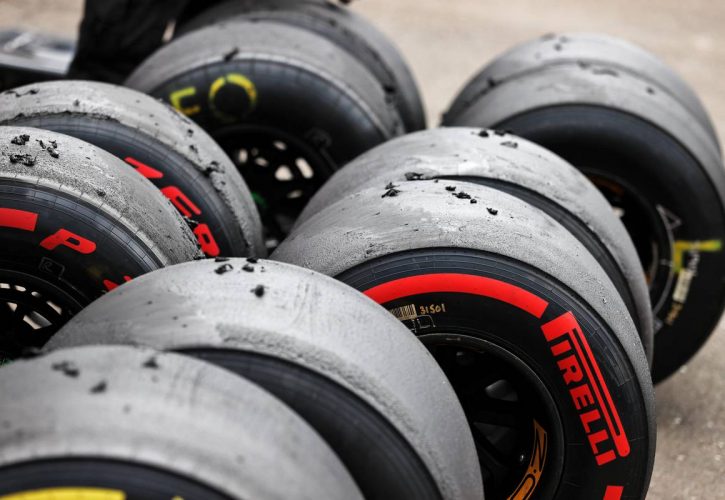 The focus this weekend at Silverstone will be on Saturday's Sprint Qualifying event, but the British Grand Prix's innovative format has required a few significant changes on the tyre front.
First and foremost, Pirelli will officially roll out its new rear tyre that was sampled by teams in Austria.
The structural change, brought about by the failures suffered by Max Verstappen and Lance Stroll last month in Baku, has led to a more robust and durable tyre that will be used for the remainder of the season.
In terms of compounds, the Italian manufacturer has nominated the same rubber as last year's British Grand Prix: the C1 hard, C2 medium and C3 soft, or the hardest compounds in Pirelli's range due the high energy demands of Silverstone Circuit.
However, allocations have been tweaked, considering the inclusion of sprint qualifying. There will be 12 sets of slicks per driver (instead of 13): two sets of C1 hards, four sets C2 mediums, and six sets of C3 softs.
In addition, drivers will rely on six sets of intermediates and three sets of full wets in case of wet weather conditions.
So, here's a rundown on the tyre rules that will govern each session:
1. All compounds available for Friday's FP1 and Saturday's FP2
2. Only the soft tyre can be used in Friday's 60-minute qualifying session which will follow the same three-segment process as usual.
3. In Saturday's sprint qualifying, drivers will have a free choice of tyres with no obligatory pit stop. Classification will determine the grid for Sunday's race.
4. On race day, again, all drivers will have a free choice of tyres, but the mandatory stop to use two different compounds still applies.
"There are plenty of new things to look forward to during the Silverstone weekend," said Pirelli F1 boss Mario Isola.
"First and foremost the introduction of sprint qualifying for the first of three races this year, which will completely alter the dynamic and rhythm of the weekend as well as having an important effect on how the tyres are used.
"The different ways in which the teams interpret these new regulations and make the most of them is going to be fascinating to watch.
"We're also introducing the new construction of rear tyre that was tested successfully in Austria with positive feedback.
"As for Silverstone itself, it remains one of the biggest test of the year for tyres thanks to all its fast corners, meaning that some degree of tyre management is always essential.
"Another key factor is of course the British weather, which is famously variable at this time of year."