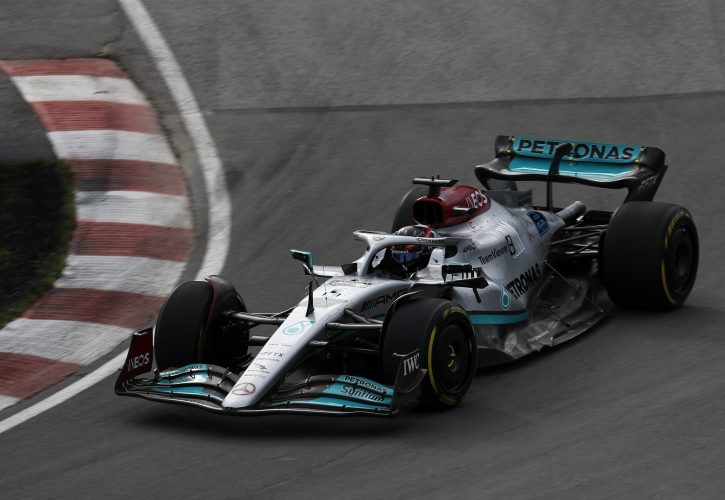 Another race weekend, another bumpy ride for Mercedes' drivers.
In Montreal on Friday, George Russell struggled once again to manhandle his stiff and bouncing silver arrow around the Circuit Gilles Villeneuve's many bumps and high kerbs.
"It's still very bumpy to be honest,", said the Briton after FP2. "Just the stiffness of these cars is just brutal.
"I think in Baku it was a combination of issues between the porpoising, the bottoming and the stiffness – here you really feel the stiffness as we sort of did in Monaco, and it's something we're trying to tackle.
"I definitely can't run them [the kerbs] as much as we used to. It's bumping around everywhere around this circuit.
"We've got this car as soft as we can but there's something in there that's not allowing us to do that.
"I know that is a bit of a known thing with these new 18-inch tyres and this new iteration of cars but clearly we need to make some improvements."
On the other side of the Mercedes garage, Lewis Hamilton echoed Russell's comments, although much louder, calling his overly stiff W13 "undriveable" after experimenting with several set-ups that proved "disastrous".
As far as Mercedes retaining its position as the third fastest car in F1's pecking order, Russell says his team will need to work hard to defend that spot.
"We're quite a long way off the pace compared to the front two teams, but also, there's a couple of guys – Fernando, Sebastian – who are very strong as well, so we've got work to do," he told Sky F1.
Russell also revealed that Hamilton and himself were entrusted with two very different set-ups in FP2.
"In FP2, that was probably the biggest deviation of setup Lewis and I have had all season," he said.
"We went in two very drastically different directions, and we'll probably be able to find a happy medium between the two, so we're going to be working hard.
"We just need to make sure we qualify ahead of the midfield. I think we've got a race car that will put us in that third team position spot, but obviously if we qualify a little bit out of position, that'll make it tricky."
Keep up to date with all the F1 news via Facebook and Twitter