"Sorry, give me a moment…" Valtteri Bottas politely says as we sit down for the interview, texting on his phone.
"Just finalising the Ferrari contract," he jokingly adds with a smile.
Bottas knows he is hot property. We are speaking ahead of the British Grand Prix and he has already been asked a thousand times about a potential move to replace Kimi Raikkonen at Maranello. It is a hugely attractive move for any driver, but Bottas has been nurtured by Williams for five years now and he is aware the team put a lot of faith in him from an early age.
"I think we've all made it together in the team, every single person. I started back as test driver in 2010, that's already quite a while ago, so it's been really cool to see how massive the improvement has been since 2010.
"I'm really proud of what we have done and for sure the fact Williams gave me the opportunity to get to Formula One as test driver and then maybe took a bit of a risk getting me as race driver, but now I think they see it paid off. I'm always going to be really thankful to everyone for that."
So does the history with Williams make it even harder to consider moving to another team?
"The fact is now because there's no information for next year so I don't want to say I'm leaving, but we've had great times together. There could be some in the future and I'm always going to be really thankful to the team. But still, I have one career ahead of me and it's not very usual that one driver is in one team for their whole career. So for sure at some point our roads will separate and I will always remember the good moments."
As a Finn, it is almost natural Bottas gives away little in terms of emotion. He's clinical in the way he looks back at his Williams career so far, which really seemed to take off last year with his first podium in Austria being followed up by second place at both Silverstone and Hockenheim. However, with Mercedes so dominant and Ferrari improving, that first win remains out of reach.
"Of course for me the annoying thing is you always want more. You get a podium, you want to be there again, you want to be on a higher step, it's all about trying to win. You always want more and of course it's tough when you can't get those results you are targeting.
"But that is Formula One and I think that's also what I learned in my first year that was really tough. No matter what we did we were always at the back. OK we got a few points at the end of the season but it was a tough season and that also made me tougher and not to give up.
"I'm confident that eventually if you keep doing your best and keep improving, there will be opportunities in the future to fight for those results you want. I'm sure at some point it's going to happen."
Referencing his tough first season, Bottas' stock has continued to rise year on year as Williams has also improved. When it comes to weighing up his future, the 25-year-old is keen to point out he is currently in a team which is showing no signs of slowing its progress.
"For sure the step we made from our first year to last year was massive. Also the way we've been able to improve how the team operates, we're a lot more professional now than for example at the beginning of last year. It's still the case that every single update works, which is really positive, so it does give me confidence that there is still a bit more potential than we are showing now."
The step change from his first year to his second year was obvious, and as Bottas was growing up as a driver, Williams also had to do the same as a team.
"I think last year we had a good car but the team … because we'd had so many years struggling for results it starts to eat up the other areas of the team. It drags it down, and then you suddenly have a quick car and you say 'Shit, our pit stops are not at the level of Mercedes or Ferrari', or 'Our race strategy is not as good', and you start working on those areas.
"We're now getting there, it's getting much better but I think it was a bit of a surprise how quick the car was last year, we were not really ready for it as a team. Now we are, I think we are as strong a team as the car is at the moment."
The statistics show both are continuing to improve. Bottas has scored four more points this season so far than at the same point in 2014, and that's despite missing the opening round due to a back injury. Williams as a team has 48 more points than last year, but is the improvement quick enough for Bottas with Mercedes and Ferrari still ahead in the standings and both having won races this year?
"As a driver you want the success as quickly as possible, that's how it goes. But then if you need to wait, if there's no other way to be able to reach your goals then that's what you need to do. But if there's another way, I think every driver would go for it.
You also need to be in the right place at the right time
"I would think in the next few years if you want to win the title you have to be in one of those three teams. For sure it was quite impressive the step Ferrari made from last year to this year and at the moment so far this season they have been in a stronger position than us. We've been getting closer but I think the rest of the season will show how it's going to end up between us and them. But it's clear Mercedes is dominating at the moment…"
Having been given his first chance by Williams, Bottas would love to repay the faith by winning with the team. However, he wants to be - in his own words - "in the right place at the right time", and he is clear he will not let any personal attachment get in the way of his ultimate aim.
"There is a point as a driver when you also need to start thinking about yourself; if there are opportunities, if there is a better chance of winning somewhere else. It would be really nice to win with Williams but then if that's not possible, my goal is to be world champion so if I see that's not possible of course at some point you need to start looking at other options.
"I have no new information about what's going to happen next year, if I'm going to be here or not I don't know yet."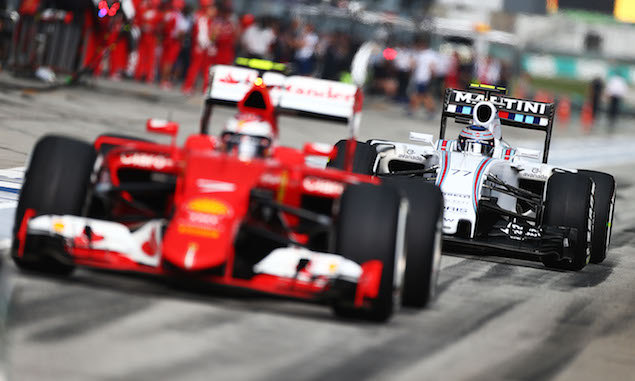 Click here for a lighter look back at some scenes from the British Grand Prix
Keep up to date with all the F1 news via Facebook and Twitter