Max Verstappen sits down with F1i's Chris Medland to discuss his second season in F1, expected improvements at Toro Rosso and future team moves
Max Verstappen burst on to the scene in 2015 as one of the most exciting young talents F1 has ever seen. There were remarkably few mistakes for a rookie driver, let alone one of just 17 years of age and with only one year of single seater racing behind him.
While there is so much hype around the young Dutchman now, those last two facts led to a different attitude 12 months ago. Yes, people were excited about Verstappen, but there were also concerns he didn't have the necessary experience or maturity to handle grand prix racing so early in his career, to such an extent the FIA duly changed the Super Licence rules.
The performances soon allayed any fears and led to Verstappen becoming arguably the hottest property on the grid. Not only did he produce flashes of brilliance, consistent results started to follow with the Toro Rosso driver scoring in eight of the final ten races of last season.
"I think it's just general experience," Verstappen told F1i when asked if anything clicked to produce that run of form. "I mean, I only did one season of Formula 3 so of course it takes a bit of time to jump in an F1 car and do really well. I think since the summer break - or just before - it was the perfect turnaround, I would say.
"Just the understanding of the car was getting better and better. So in the end I think that went quite well, in the right direction … You know what the problems are and you have a better feeling with it so you know what to change. I think that was definitely the improvement."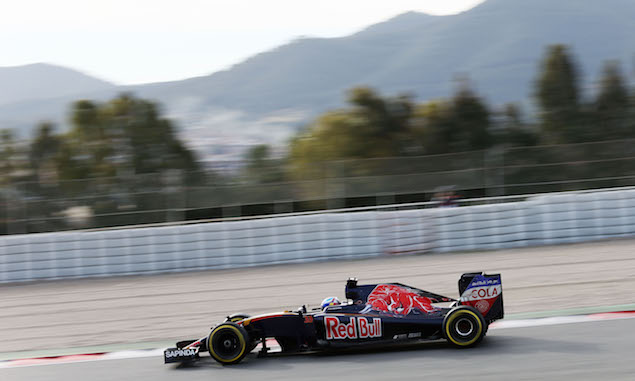 Verstappen knows he is now in demand even more than he was before arriving in F1, but he's just using that to further fuel his confidence. With the likes of Helmut Marko, Martin Brundle and David Coulthard likening Verstappen to Ayrton Senna, the rookie says he tries to ignore the comments while it is only relating to potential and not success.
"I try to stay very neutral about it and just focus on my job which is to do a good job on track. It's always nice to hear [comparisons to Senna], but at the end of the day I'm still nowhere near what he achieved so I just stay calm about it and focus on the track."
While he had to prove doubters wrong in 2015, Verstappen enters this year with the weight of expectation on his shoulders from both Red Bull and the wider F1 paddock. So which season carries the more pressure?
"For me it doesn't really change a lot. I just try to do my best and that's how I approach every race actually. Of course there's only one seat available up there (at Red Bull) but I'm very confident, I know my contract and it's all looking very positive."
Asked if the experience of last year has at least left him with less nerves heading in to 2016, Verstappen cooly replies: "Definitely.
"A first good season opens up a lot of doors as well…"
Verstappen is not one to be drawn on any interest from outside Red Bull, but he exudes the confidence of a driver who knows there is a seat waiting for him somewhere at the end of this season.
"I know what is in my contract, so I'm very happy I can do another year here and then you guys will see what happens next year…
"Of course you want to move up."
Team-mate Carlos Sainz also impressed in 2015, even if the results didn't always match the Spaniard's performances. Despite flashpoints such as Singapore last year the two drivers get on well, and Verstappen does not see that changing as they fight to be the standout pick if Red Bull comes calling.
"I'm very relaxed about it because I just need to do a good job. Like I said, it's looking good for the future so that's always a confidence boost.
"[The target is] don't make stupid mistakes I would say and be a very regular points scorer, a very consistent driver, and fast. I think that's what people and teams like to see in general."
It's hard to believe Verstappen is heading in to only his third season of single seater racing, but the 18-year-old is keen to stress that means he can still up his level in 2016.
"In Australia I'll generally just have more experience, I think that makes a big difference. The understanding of the car, the tyres, the racing weekend in general and how to approach it. That makes a big change.
"It always helps if you know the circuits. You can more easily and more quickly focus on the set-up work instead of just getting yourself comfortable with the track.
"In general of course I've got a lot more experience and now it's all up to the package to see where we are. At the moment everything is looking positive and I can't wait for the first race now, especially as we've had such a good test to be honest."
So what can F1 fans expect from Verstappen this year?
"Hopefully another spectacular season. I think that would be the most important thing."
ANALYSIS: The two F1 pre-season tests in numbers
Keep up to date with all the F1 news via Facebook and Twitter