Back to the bottom of the field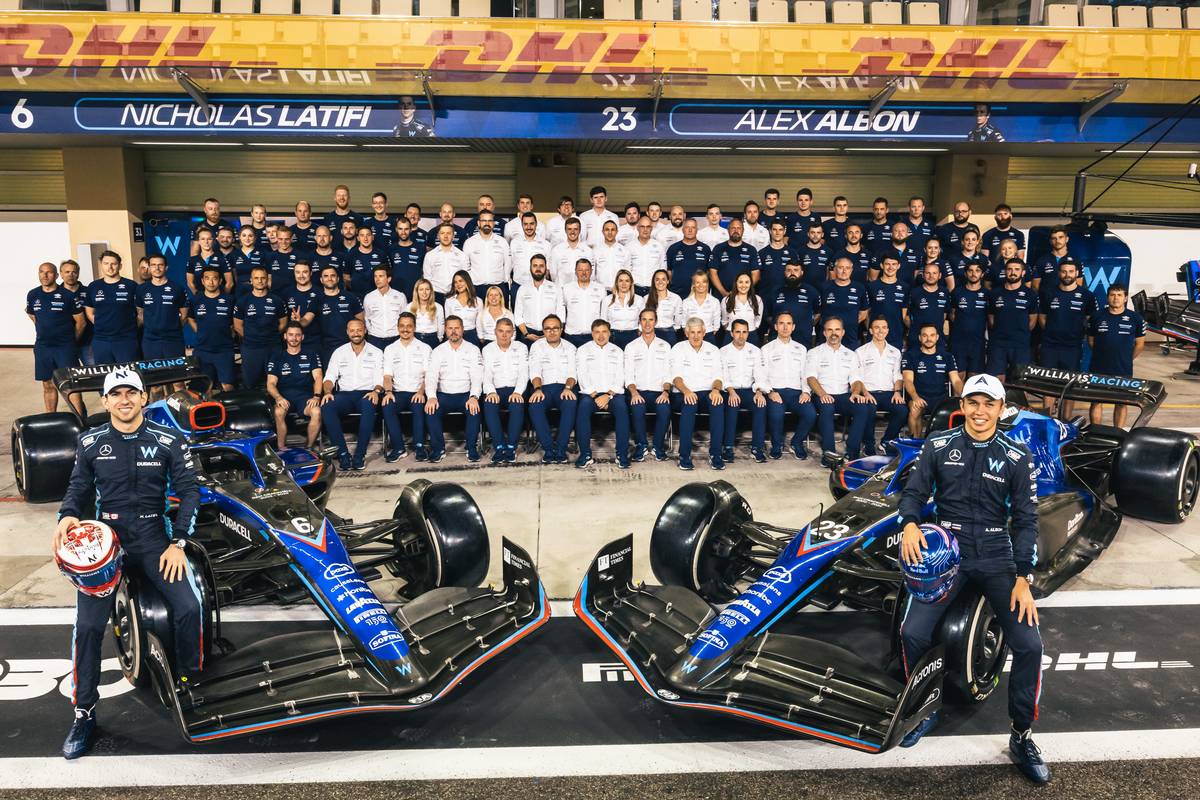 The team picture
Constructors standing: P10, 8 points
Last year was a surprising triumph for Williams with George Russell inspiring the team to success in Hungary and Belgium, contributing to a season total of 23 points and P8 in the team standings. But this year it's back to the bottom of the constructor standings with a resounding thud, together with a significant reduction in points.
Some of the blame for that has to go to the FW44: the team simply didn't get on top of this year's updated rules and regulations surrounding ground effect aerodynamics, and the car handled like a tank as a result.
To put their performance into a wider context, Alfa Romeo and Haas both suffered particularly terrible form in 2021 (they were essentially on throwaway 'gap years' when it came to development). This season both teams were back to where they should have been in the first place, meaning they moved up the standings while Williams failed to keep up - and if anything, started to fall backwards again after their brief renaissance.
The driver line-up
Alex Albon: P19, 4 points
Nicholas Latifi: P20, 2 points
Nyck de Vries: P21, 2 points
There's not much doubt about which of Williams' two full-time drivers came out on top in 2022, and that was Alex Albon. After showing some degree of promise last season, Nicholas Latifi had a terrible time and never seemed to get on top of this year's car in the same way that Albon managed in his first season taking over from George Russell.
Albon finished in the top ten on three occasions but Latifi's P9 in Japan meant they finished the campaign with just two points between them, and Albon just one place ahead in the final standings. The imbalance is more pronounced in terms of how many times Albon finished ahead of Latifi (15 times out of the 19 races where either of them finished, with four DNFs apiece), and Albon out-qualified Latifi 19 times in 21 races in terms of Grand Prix starting grid positions. That's pretty emphatic.
Of course, the real star of the season for Williams was Nyck de Vries who stepped in at the last minute in Monza to replace Albon, who was in surgery for appendicitis. He out-qualified Latifi at his first attempt and claimed two points equaling the Canadian's entire season tally at a stroke. The writing was on the wall for Latifi after that, while de Vries was rewarded by finally getting his shot in F1 in 2023 with AlphaTauri.
How 2023 is looking for Williams
As disappointing as 2022 was, it seemed like a reasonable first step on a long journey under its new owners and suggested that there would be better to come in 2023. But the sudden departure of team principal Jost Capito and Francois-Xavier Demaison suggests that not is all well at Grove, and moreover that the powers-that-be have no confidence in the direction the team has been going.
With that in mind, the prospects for Williams next season look pretty gloomy. They need to find new leadership, and that's going to take time. It wouldn't be a surprise to see Williams spinning its wheels for much of the next 12 months, and that will mean getting further mired at the back of the grid and earning the wooden spoon for a second consecutive campaign.
Keep up to date with all the F1 news via Facebook and Twitter