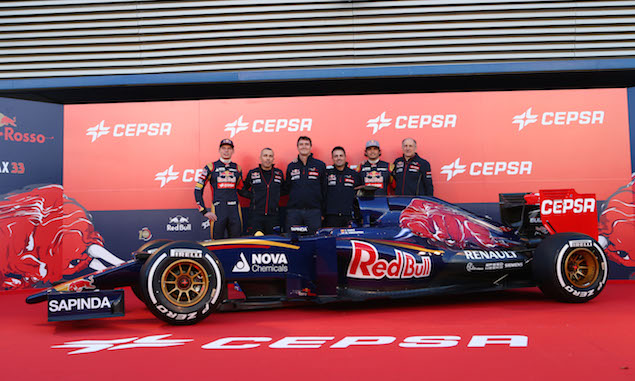 1. Off-track growth for on-track gain
Twelve months ago, Toro Rosso, like all the Renault-powered teams, were struggling just to get their car to the end of the pit lane in winter testing and yet, at last week's Barcelona test, the Faenza based squad did the third highest number of laps, just three fewer than Red Bull and 35 down on the stakhanovites in the Mercedes camp.
Furthermore, that impressive lap total is proof that the two baby drivers of the pack were pretty much error free throughout the four days, barring a hefty off for Carlos Sainz Jr late on the final afternoon. Could this all add up to something special for the Red Bull second string team this year?
You could say it's about time, given the team is making a fuss of having been in the sport for a decade now. In terms of results it has just the one win and pole in Monza in 2008 when, together with Sebastian Vettel it whipped up a perfect storm in performance terms to surprise the world at its home race.
There's no real legacy
However, the team's technical director, James Key sees the team's ancestry differently, reckoning that, as an entirely independent constructor, as opposed to a Red Bull Racing satellite, the Toro is the same age as Marussia.
"There's no real legacy, there's no ten years' worth of development of a certain area of the car where a huge amount of data has been accumulated and directions are very easy to find," the Englishman tells F1i. "In the last couple of years, we've broken out of being a little bit conservative and have begun to be pretty adventurous, doing stuff that was well beyond what was the case two or three years back with the car. That's not obvious from the outside. The current team is about 18 months old in terms of the structure we have and the people we have and heads of departments, so it's all pretty young still."
The 2014 car delivered at times and despite the lack of testing miles proved its potential by getting both its drivers into Q3 in Melbourne, but Key agrees there were plenty of missed opportunities.
"With STR9, we had a reasonably competitive car but we simply didn't make use of it. What we didn't do was operationally succeed in making the most of every opportunity. That's where we have to step up. We have to get better at finishing the job off and making the most of every opportunity.
"We've got to a point now where our development rate can be compared favourably to that of many others, even some teams which are a little bigger than ours but operationally, we need to make sure that we can make the most of it. Last year, given the potential we had, we came away very disappointed with how many points we scored."
If Toro Rosso can metaphorically be described as a work in progress, that's literally been the case for its Faenza factory.
"The team has been in a building process for the past two years and it's continuing to grow with our new HQ coming online this year," says Key. "That will make a massive difference to the team because it will bring a lot of the technical departments together under one roof. It will be a very state-of-the-art building and environment.
"Everyone in the team is very motivated. It's not a case of 'you've got to step up, guys'. We all know that and we all desperately want it. We need to do that because we've got everything in place that should allow us to progress. We've ripped last year apart in a great deal of detail and looked at every aspect of it and we're tracking all of that now in testing and trying to improve everything."