The best quotes from the Spanish Grand Prix weekend include Fernando Alonso and Lewis Hamilton joking around and Sebastian Vettel talking about a caravan
"A year out?! Haha, no way. Whoever wrote that was smoking something! Pretty good stuff!"
Lewis, asked about a report in the press that he could take a sabbatical from F1, displayed a worryingly good knowledge about Mary Jane.
---
"We have to talk, it's part of our job. The most difficult is always on track and that should be the main focus. If the press conference becomes the hardest part of your weekend you're in the wrong profession."
In Thursday's FIA conference, Kvyat displayed dignity, determination and self-control in what was a difficult press meeting for him and on Friday he reflected on how a driver deals with the media.
---
Alonso: "They changed the drivers? [To Lewis] You knew it?"
Hamilton: "No!"
Fair play to Fernando for trying to lighten the mood in a very heavy Thursday FIA conference with Sainz, Kvyat and Verstappen all made to sit in the front row and have their fate picked apart. The McLaren man pretended not to know the Kvyat-Verstappen swap had taken place and the Mercedes driver played along. Some of the ever-so-serious German media thought they really didn't know.
---
"I was in Moscow, I was lying on the sofa, I was watching a TV series and then the phone call comes. It was "hallo, well, we have some news for you" and I think there was a 20 minute talk about... I wanted and I think I deserved an explanation. I got to know many interesting details, I must say, which I think I will keep to myself for now.
"Dr Marko called, he made the phone call. We finished the talk and I went back to finish my TV series, that's all.
"What TV series? Game of Thrones."
Not sure if Daniil Kvyat was deliberately drawing comparisons between his own situation and the Machiavellian twists and turns of the popular fantasy drama.
---
"Everyone is keeping a close eye on the team this weekend to see how Max goes; I'm a small part of it, but it's exciting."
Daniel Ricciardo came up with the PR-approved statement about his new team-mate after Friday's practice, before demonstrating just how "exciting" he thought it was in Qualifying, when he put the Dutchman in his place to the tune of almost half a second.
---
"I was really looking forward to getting behind the wheel of the R.S.16 so it was a shame that Friday the Thirteenth decided to pick on the team and I!"
In the modern high-tech world of F1 Esteban Ocon decides to blame a 14th Century superstition involving burning Knights Templar at the stake for his puncture and battery problem in FP1.
---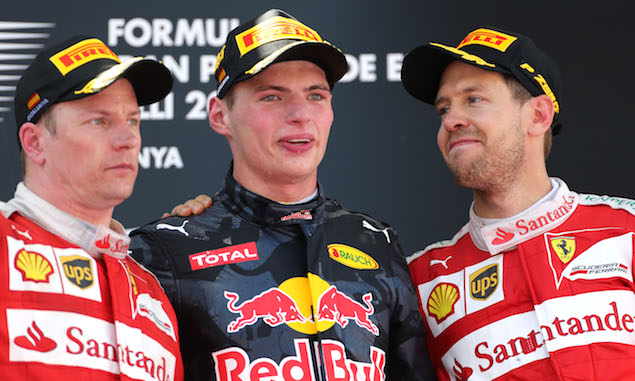 "When it comes to youngest and oldest, it happens to be like that. I raced against his father. That actually sounds even more scary. In F1! That's how it goes."
Kimi gets all philosophical in the post race conference, now that he's raced against two generations of Verstappens.
---
"As soon as we pitted I knew we were going to the end. So the first few laps, I didn't really push. I knew the Ferrari was a bit faster than us today but I just let him catch up and then you're just controlling the gap."
Can you believe this is an 18 year old kid, Max Verstappen talking, who has been leading a GP for the first time in his life. Talk about cool calm and calculating and having a wise head on young shoulders.
---
Vettel: "I was hoping at some point to see a caravan trailing his car and the yellow number plates, but unfortunately we weren't on the autobahn so... I thought that this would slow him down but he didn't stop and pick up a caravan after the pit stop. I guess he was quite smart to say 'no guys, no caravan yet'."
Verstappen: "Does the Ferrari have a hook on the back?"
Vettel: "No, you have. I think you have a thing sticking out."
A comedy moment between Sebastian Vettel and Max Verstappen in the post-race press conference. Don't laugh too hard about the Dutch caravan cliche, because from now on there'll be hundreds of them on  the road in front of you if you attempt driving to any of the European GPs for the rest of the season.
---
"I waited 32 years to hear the Dutch national anthem played on an F1 podium."
No Dutch driver had ever won a GP before Sunday and this unnamed Dutch photographer, with 32 years on the front line, was in tears and shaking with emotion as he got back to his desk after the podium photo scrum.
LIVE: Barcelona post-race - Day 1
DRIVER RATINGS: Spanish Grand Prix
Breakfast with ... Claire Williams
Keep up to date with all the F1 news via Facebook and Twitter