At the final race before the mid-season break, a number of drivers were understandably ready for their holidays. Lewis Hamilton even invited us along...
"Stu's been around a long time. He definitely helped me transition from boy to man and I really believe we've done things other driver/trainer partnerships aren't doing and it's not just spending more hours in the gym."
Steady lads, that's quite enough man love from Daniel Ricciardo for his trainer Stu Smith, when talking about key influences in his F1 career, on the weekend he celebrated his 100th Grand Prix.
---
"I have a contract for one year. Of course there are certain obligations that we need to fulfill. My management is working very hard and I would like to say thanks to the team and also to the people in Indonesia who have been very supportive and hopefully I can keep my seat for the rest of the season."
Bye bye, Rio
---
"I was the same speed as Kevin which is very promising; I was quite pleased with that."
Esteban Ocon staking a claim for an F1 seat by pointing out he was as quick as his team-mate in FP1, when he took over Jolyon Palmer's car. 
---
DR: "Esteban's my favourite, I love this guy."
SR: "Rest assured he's doing it to everyone, not just picking on you."
Daniel Ricciardo and his race engineer, Simon Rennie discuss the Haas driver's reluctance to move over for cars ahead of him in the race classification.
---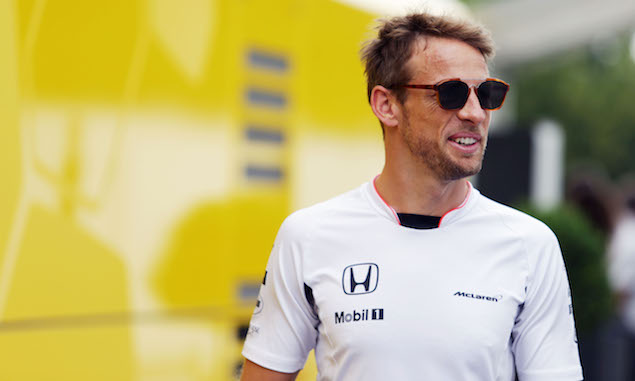 "I'm looking forward to a holiday. I can sit on a beach lounger and drink a beer and not be feeling guilty."
Jenson Button after the race gives us a peek into the sad life of millionaire F1 drivers.
---
"I'll definitely be relaxing, I'll have my dogs with me and with family and friends."
In the post-race podium interview, Lewis Hamilton puts his dogs ahead of family and friends, unless he's still trying to speak street patois and meant to say "I'll have my bitches with me."
---
"Well, top of the morning to you Graeme...... Oh, Scottish!"
Daniel Ricciardo thought he was being funny with this opening remark to a journalist whom he though was Irish. Like many Aussies, Daniel probably thinks Europe is a suburb of Paris.
---
"He's had a bit too much champagne, that's the problem, I think he's drunk!"
Ever helpful team-mate Max Verstappen gives Daniel an excuse.
---
LH: "You guys, I don't know if you're all going to be on the break as well but you've got to make sure you enjoy this period of time, whether it's with your families or with your friends. Life's too short to not be happy and the things that I do is what makes me happy. It might not make any of you happy doing what I do but I'm pretty sure you'd have an amazing time if you came with me wherever it is I go!"
Bradley Lord (Mercedes F1's head of communications): "Did you just invite all the media on your summer holiday?"
LH: "You guys would have an amazing time but unfortunately you'd have a lot of stories to write!"
Dear Lewis,
I swear to you I will not write a single word about anything you do if you take me on holiday with you.
Yours, packing the Factor 50 as we speak,