You can run but you can't hide: Eric Silbermann tracks down interesting people and forces them to have breakfast with him.
There could only ever be one subject for our Brazilian breakfast interview, the lovely Felipe Massa, who has two more Grands Prix to go between him and F1 retirement.
Have you enjoyed your career?
Yes, very much. So much has happened, I have learned so much, it's been an incredible life experience. To tell the truth, a Formula 1 driver is always older than his actual age, because you have to learn about life at a very early age. I came to Europe when I was eighteen years old, I had no money and I didn't speak any languages apart from Portuguese, so I had to teach myself everything on my own. I had to go through a lot of things on my own. That meant that I grew up much quicker than a person in a normal walk of life. In that life there have been so many great things happen, so many difficult moments and overall, I'm very proud of the career I've had and everything that has happened. I believe I leave the sport the way I came in, with my head held high.
Before coming to Europe, what memories do you have of your early days racing in Brazil and then before F1?
So many great memories, all the victories, so many championships won, not just in karting, but in the junior categories like Formula Chevrolet, Formula Renault Italy and Europe, Formula 3, Formula 3000. To be honest, from karting up to Formula 1, I won everything. For me, before getting to Formula 1, the most difficult moments that I had were always down to money and trying to find sponsors. That was the most difficult thing all my life. Even though my father didn't really have the money, he helped me so much and we made it together.
Let's move to the darker side and talk about Singapore 2008. For me, that was the race that cost you the world championship that year. (Renault got Nelson Piquet Jnr to crash into the barriers deliberately to bring out a Safety Car, having previously pitted Fernando Alonso far earlier than would be normal, thus handing the Spaniard a straightforward win).
Yes, there were some other incidents too that year, but they were what I'd call normal incidents, where Singapore was where something was stolen from me. And when something of that nature changes the outcome of the championship come the end of the season, that's sad. But we only found out the truth about Singapore 2008 a year later. It's sad to think something like that can happen in sport and that it was part of a dirty trick. Where there's money, there's dirt. It changed nothing in my life because that's not the way I am.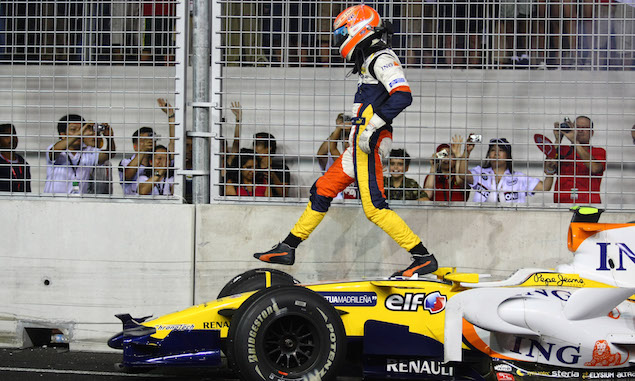 Then a few years later, you and Fernando Alonso became team-mates. Did what happened in Singapore make that a problem?
No. For sure I never liked that incident. Whenever you ask him about it, he says he didn't know. Ok, what happened happened. For sure Fernando was always very nice with me, very kind with me and we always talked and had fun, but he has a dual personality. Out of the race car, he is great, easy going and calm, then when he's working, in the car driving, he thinks only of himself and doesn't give a damn if he has to be false with other people or go against any other person as long as he gets what he wants.
Then we come to the final race of 2008 when you won at home in Brazil, but it wasn't enough. I've tried never to have favourite drivers, but as we had worked together, I so much wanted you to win. There's a joke about a man who puts money on a horse, the horse doesn't win, but the man keeps watching replays of the race in case the result changes. I kept watching reruns of the final lap in Brazil with a similar thought. You were very dignified on the podium and that maybe won you more new fans than if you'd been champion.
I always tried to go where my heart took me. I tried to do what my heart and mind told me to do. That day, what helped me a lot was the fact I'd won the race. I was happy to have won the race, I lost the title in the last few metres, but that's not the moment when I lost the championship. I lost it when I lost a point earlier in the season. Winning the race was the most important thing, because after that, it was no longer in my hands. You can't finish higher in a race than first.
You had a very tough career in some ways – I'm not talking about Budapest -  always fighting with team-mates who are regarded as some of the best if not the best ever: Michael Schumacher, Fernando Alonso. On being team-mates with Michael, Eddie Irvine said it was like waking up every morning knowing you were going to be constantly hit over the head with a baseball bat.
Michael had an innate talent as does Fernando and, to beat them, you have to do a perfect job, or you'll be behind. I've had many great team-mates and still do – Valtteri [Bottas] is very strong. It's true, I also had that accident and people say, 'ah you haven't won since then.' I can't say if the accident had an effect or not. I feel exactly the same now as I did before it happened. It's true I haven't had a win since, but I've had some great races, so I will never be able to say if what happened changed me or not. While it's true I had a tough time with so many great team-mates, it's also true that I learned a lot and have had a fantastic life experience.
Like many Brazilians, you have a strong religious faith: what effect has that had on your racing life?
I think it just gives you a positive feeling when you step in the car. I have never asked God to help me win. If all drivers asked God to help them win, we'd all be asking for the same thing! However, I have asked for protection, not just for me, but for all my fellow drivers. The worst thing is to lose a colleague, whether a friend or not. And that happened, with Jules (Bianchi) for example. That was a very sad moment.