A number of F1 drivers have been giving their reactions to the Aeroscreen tested by Red Bull during FP1 at the Russian Grand Prix.
Red Bull ran its cockpit protection concept on Daniel Ricciardo's car for his installation lap at Sochi Autodrom in order to check visibility, with Ricciardo reporting no problems after completing the lap.
Drivers have been outspoken over cockpit protection since the Halo was tested during pre-season testing in Barcelona, and below is a selection of the responses when asked for their thoughts on the Red Bull concept, with Lewis Hamilton today referring to his comments from Thursday.
Daniel Ricciardo
"The engine and everything sounds a bit different, you don't have the interference with the wind. In all honesty the vision is fine, that seemed OK, so first impressions was fine. It was definitely driveable. Once you've got the structure in place it's pretty much where the mirrors are so, I wouldn't say you're limited any more than we are now in terms of visibility. It's obviously a bit different having that in front of you  but generally it was as good as we could have hoped for.
"I think it's one of those things. Sure, the talk has been about the open cockpit and that's what people know F1 for and all that. That's fair enough. It would be great to keep it as it is but with accidents that have happened, especially more recently, I think at least not to explore this route seems a bit disrespectful I would say. If this becomes the norm everyone will get used to it, I don't think it's as bad as some people are saying -- it could happen, quite easily."
Jenson Button
"I prefer the look of it [to the halo]. I think it looks pretty – I think it looks better than a normal F1 car - but we have to look at safety and which one is better for safety. I think, in a couple of years, if we did go for that design that was on the Red Bull today, we'd look back and think that the cars look weird without it. I used to watch the F1 powerboats in Bristol with the family, and they had the open cockpit for many years but when they had the closed cockpit they looked so much cooler. That's not a reason to have that option – it's for safety and we have to have the right option for safety. I think it looked a lot more 'aero' and that's going to be a lot more tricky for other teams to get used to build for their windtunnels, for their cars, where I'm sure Red Bull have tested it a lot already."
Lewis Hamilton
"I don't really have too many thoughts on it, I like the way it is. When I get in my car I know that there is a danger, that's been the same since I started when I was eight years old and that's the risk that I am willing to take and that's the risk that every single driver who has ever been in the car has been willing to take. It has come along so far over the years which is amazing, we haven't really seen deaths and I mean, if they are going to do this, close the cockpit like a fighter jet.
"If you are going to do it close the cockpit like a fighter jet, don't half-arse it. That screen looks like something from a, I mean jeez, it looks so bad. It looks like a bloody shield from the policeman, the riot shields, it's like a bloody riot shield. You've got this cool, elegant, futuristic Formula One car and you've got a crappy riot shield sat on top of it, nah, and the other one, the carbon fibre structure was obviously good but obviously Fernando wouldn't have been able to get out of the car potentially in his crash in Melbourne but on top of that it is a good thing to see that people are, the FIA do take safety seriously. It is a constant thing that always needs to be worked on but as long as it doesn't affect the aesthetics and the style and the coolness of Formula One, because the reason you look as a kid, you look at Formula One [and think] 'wow, these guys, they are crazy. They could die at any moment.' Everyone who comes to me who has just started watching Formula One is like 'ah it's so dangerous' and that's a large part of why they are so in awe of what you do. You take away all that and that person could do it almost."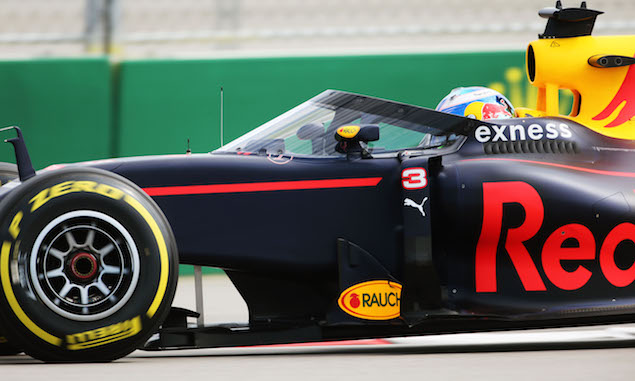 Felipe Massa
"The Red Bull solution was not so nice, to be honest, I think the Ferrari solution was better. But I'm in favour of driver safety, so it's important to find the best solution."
Fernando Alonso
"I think we need to trust the FIA on the decision. They have all the information, which one is better, comfortable, safe, there are many factors that we are not in control of, we just look from the outside. Probably the Red Bull solution looks a little bit better from an aesthetic point of view but I think the FIA will decide the best one and hopefully there are more options coming because it is early days and hopefully we will find the best solution. It's a must that will come from next year hopefully and we need to find the best solution for the future."
Romain Grosjean
"I didn't see that, I saw the pictures. I didn't see them running. I prefer the Halo system because I think F1 you have to get the helmet in the air otherwise it becomes a closed car – so I am more in favour of the Halo. 
"From the looking, from the fans, from the canopy – if you put a small piece of paper on top it is a closed cockpit so I don't' want to see that in F1 as an F1 fan, and I prefer the Halo."
REPORT: Hamilton quickest as Vettel hits trouble in FP2
AS IT HAPPENED: Russian Grand Prix - FP2
Silbermann says ... 'Russia OK' shock
Romain Grosjean column: Haas brought back down to earth
Keep up to date with all the F1 news via Facebook and Twitter