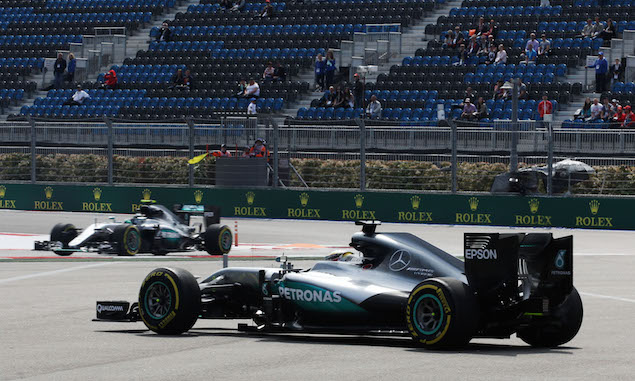 Lewis Hamilton was comfortably fastest as Ferrari suffered more reliability woes during second practice for the Russian Grand Prix.
With Ferrari not running the supersoft tyre in FP1, there were positive signs when Sebastian Vettel went fastest on the softest compound tyre relatively early in the session. However, with just 10 laps to his name, Vettel pulled over to the side of the track on the exit of the final corner. Reporting an electronics problem, Vettel's session was over early as he missed out on significant running.
After Vettel stopped, Hamilton finally put a lap together on the supersoft tyre to go over 0.6s clear at the top of the times. Hamilton had spun during FP1 and did so again in the second session, losing the rear at Turn 4 and flat-spotting his tyres.
Vettel remained second fastest in terms of headline lap times, with Nico Rosberg over 0.2s further back having failed to get in a clean lap on the supersoft tyres. Despite struggling for a representative time, Rosberg was still 0.3s faster than Kimi Raikkonen in the second Ferrari.
It was an encouraging start to the weekend for Mercedes, with the team confirming it had spent two development tokens on its fuel system ahead of the race weekend.
Daniel Ricciardo edged out Valtteri Bottas by 0.1s as Red Bull and Williams again looked closely matched, while McLaren managed to get both cars in to the top ten - with Jenson Button eighth and Fernando Alonso tenth - although Alonso was nearly two seconds slower than Hamilton.
After a number of drivers spun in FP1, only Romain Grosjean and the two Manor drivers joined Hamilton in swapping ends in the second session as the track remained low on grip. Grosjean complained of the same handling issues he faced in China, with the two Haas cars down in 16th and 17th respectively.
The session ended under yellow flags with Pascal Wehrlein pulling off the track at Turn 14, reporting a loss of power in his Manor.
AS IT HAPPENED: Russian Grand Prix - FP2
Silbermann says ... 'Russia OK' shock
Romain Grosjean column: Haas brought back down to earth
Keep up to date with all the F1 news via Facebook and Twitter
| Pos | Driver | Team | Time | Laps |
| --- | --- | --- | --- | --- |
| 01 | Lewis Hamilton | Mercedes | 1:37.583 | 30 |
| 02 | Sebastian Vettel | Ferrari | 1:38.235 | 10 |
| 03 | Nico Rosberg | Mercedes | 1:38.450 | 37 |
| 04 | Kimi Raikkonen | Ferrari | 1:38.793 | 35 |
| 05 | Daniel Ricciardo | Red Bull | 1:39.084 | 34 |
| 06 | Valtteri Bottas | Williams | 1:39.185 | 42 |
| 07 | Daniil Kvyat | Red Bull | 1:39.193 | 32 |
| 08 | Jenson Button | McLaren | 1:39.196 | 31 |
| 09 | Felipe Massa | Williams | 1:39.289 | 38 |
| 10 | Fernando Alonso | McLaren | 1:39.400 | 30 |
| 11 | Carlos Sainz | Toro Rosso | 1:39.465 | 37 |
| 12 | Max Verstappen | Toro Rosso | 1:39.501 | 30 |
| 13 | Nico Hulkenberg | Force India | 1:39.795 | 31 |
| 14 | Sergio Perez | Force India | 1:39.867 | 38 |
| 15 | Kevin Magnussen | Renault | 1:40.193 | 41 |
| 16 | Romain Grosjean | Haas | 1:40.260 | 24 |
| 17 | Esteban Gutierrez | Haas | 1:40.508 | 26 |
| 18 | Jolyon Palmer | Renault | 1:40.688 | 37 |
| 19 | Felipe Nasr | Sauber | 1:40.740 | 31 |
| 20 | Rio Haryanto | Manor | 1:41.080 | 38 |
| 21 | Pascal Wehrlein | Manor | 1:41.148 | 23 |
| 22 | Marcus Ericsson | Sauber | 1:41.652 | 29 |