Romain Grosjean will write for F1i throughout the season to bring you a drivers' perspective of life in a new F1 team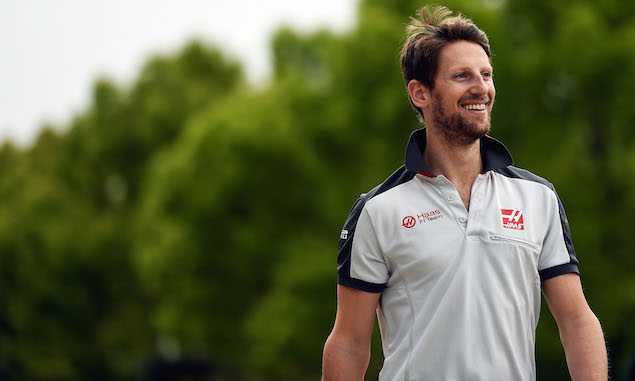 Flying home from Shanghai I was left to reflect that it was just one of those weekends! It was an event where you keep your head down and try and understand what's wrong. You ask a lot of questions and analyse your own performance. I asked myself if I could have done anything differently and helped the team in a different way.
Of course, being back home, seeing friends and being able to celebrate my birthday with family and friends is always a good thing to come back to after a challenging Grand Prix. It wasn't an easy weekend to digest but the good thing is that Haas F1 Team is still fifth in the constructors' standings. That said, we do need to understand what we could have done differently to be better.
I think overall the development of the team is going very well. Everyone is finding their way. Pit stops are getting better, the operations side is getting better. Every time we run we're gaining more knowledge. There are a few other things we need to sort out but generally we're all working as a proper Formula One team.
It's expected to have some issues, this is the nature of the sport. Having had two wonderful weekends in Australia and Bahrain, it's good in a way to have a difficult Grand Prix. It brings everyone back down to earth and recalibrates everyone to keep working harder.
I know I've spent a lot of time on the phone with my engineer since I returned from China and before we tackle Sochi. We don't want a repeat of our last weekend, we want more outings like Bahrain where we performed well.
Moving off-track for a bit, there are a few races where you're busier than others with sponsor commitments and I had a few in Shanghai with some work and appearances for Haas Automation and SAXO Bank. Without sponsors though, I don't get to drive a Formula One car, none of us would. I always enjoy the opportunity to meet a lot of people from different places.
As a team, Haas Automation is a big one for us. I'm very proud to meet people associated with the company and get them motivated to feel like they're a real part of the Haas F1 Team project. All sponsor work is important for image, it's important for the team and it's a key part in all that we do in Formula One.
The fans in China, and in Asia in general, are very enthusiastic, more than in many places we visit on the F1 calendar. There were a lot of flags for me in Shanghai and it was awesome to get the chance to meet the Haas F1 Team fans there. One fan, Nydia, always gives me macaroons as a gift when I go to Shanghai and she was busy placing the flags along with another girl, Rai. They gave me some nice birthday presents.
They actually told me that it was because of me that they had the chance to meet each other and become friends. They were both fans of mine, they met in Tokyo and now they're really good friends. I think that's really great that, through being fans of Romain Grosjean, they've been introduced and get on so well. It makes me happy knowing people can get something by following me and supporting my career.
Looking at the on-track action to-date in 2016, it's my personal opinion that the Mercedes advantage isn't as big as it was last year. They've obviously won every race so far with Nico, but Lewis has had some bad luck and I'm sure that's going to turn for him. The other teams that might have a crack at winning haven't been able to keep challenging all the way to the end of a race.
I've been asked about my feelings heading back to Sochi and if I've got any issues with the track, and in particular turn three, where I crashed heavily last season. I can honestly say I don't. It's a new season, new team and I feel happy with the car, I have full trust and confidence in it. I'll be flat out in that corner, no questions asked.
It's always difficult to know before we head to a new track quite how we're going to get on. As I've said before, we start from zero each time we rock up, we don't have the luxury of data from previous years. Having analysed what went on in China, we're hoping we'll obviously have a better go of it in Sochi.
I'm very much looking forward to hopping back in the car and hopefully getting that same feeling back that I had in Australia and Bahrain. I'm sure we'll manage that, and I'm confident we'll have the performance to do well.
Click here for more from Romain Grosjean
Chris Medland's 2016 Russian Grand Prix preview
FEATURE: Silbermann says... One 'Flu and he's cuckoo at best
F1 technical - How does ERS deployment work?
Keep up to date with all the F1 news via Facebook and Twitter