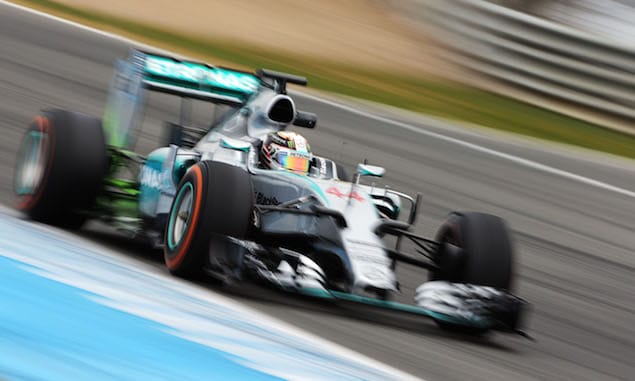 Lewis Hamilton says it will be tough for Mercedes to repeat the dominance it showed in 2014 this season.
Mercedes won 16 out of 19 races last year as it secured both the drivers' and constructors championships, only failing to take pole position on one occasion. Hamilton is confident Mercedes has improved its car for 2015 but says history suggests the rest of the pack will reduce the advantage Mercedes enjoyed last season.
Asked if he felt the dominance of last year could be repeated, Hamilton replied: "I'd be guessing either way, but I think last year was an exceptional year.
"If you look at the history of the sport it was an exceptional year for us and this team and quite historic for us. To be able to match that is going to be very tough. Obviously we go in to the second year with this kind of car and engine. The others that were further behind, for sure it was easier to make steps forward whereas our car was pretty amazing last year and for us to make steps is harder.
"So the steps we made will have been smaller. To try and explain it it's almost like going up a mountain and at the beginning it's easy and then it gets steeper and steeper and steeper. We're close to the top of the mountain and others are not at the top of the mountain so it's easier to make steps along the way.
"But I think the guys have done a great job to improve the car even though we were so good last year. It's easy to make it worse, it's harder to make it better, and I think hopefully we've done that still."
Click here for the full gallery of the Mercedes W06 at Jerez
Keep up to date with all the F1 news via Facebook and Twitter