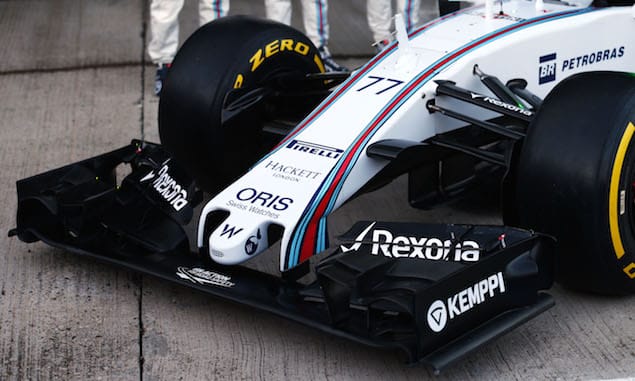 Williams chief technical officer Pat Symonds believes teams opting for long nose solutions have taken the easy option to the design.
The 2015 regulations included changes to the rules regarding nose design in order to prevent some of the ugly solutions which were seen last season. However, there is still some difference in the designs unveiled at the start of this year, with Williams and Red Bull opting for short noses with small extensions at tip, while the likes of McLaren and Ferrari have taken a different approach as their noses extend out ahead of the front wing.
Explaining the work that had gone in to the design, Symonds said he expects the longer solutions would provide less performance but were easier to implement ahead of pre-season testing.
"Obviously an awful lot of work had to go in to the nose," Symonds said. "The regulations at first appear quite innocuous but actually there's a lot of work there. It's the balance of getting a good aerodynamic solution with one that gets through the crash test as well.
"Our feeling was that aerodynamically we wanted quite a short nose but of course for an easy through the crash testing a long nose makes life a lot easier. So there was a fair bit of balancing to do there. I'm very pleased with the solution that we've got; I think it's a good one. It wasn't easy to get through the crash test but we did it and I think we've got one of the shorter noses out there which I think shows the quality of the design."
Symonds also said it was the rear of the FW37 that had been the other main focus of Williams' attentions over the winter.
"We've tried to tidy up the rear end of the car; quite a few differences on rear suspension, gearbox layout etc. And then all the little bits and pieces that you come across during the course of the year where you put it on your list of things to just do a little bit better the following year.
"So it's not a revolutionary car by any means. We have done the major changes that we had to do at the front and we've taken the opportunity to do a fair tidy up at the rear."
Click here to compare the different 2015 F1 cars
Click here for the gallery of the second day of testing at Jerez
Keep up to date with all the F1 news via Facebook and Twitter