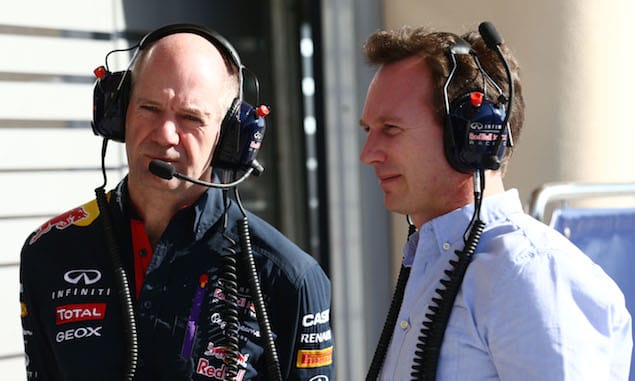 Christian Horner says Adrian Newey could be tempted to return full-time to F1 if there is a regulation change in future.
Newey has taken on a different role at Red Bull this season, combining his F1 duties as part of the design team with projects for Red Bull Advanced Technologies. Horner says Newey - who was present at the first test at Jerez - is splitting his time 50:50 between the two areas but says a new set of regulations could bring him back in to the team.
"He's still very motivated, you can see that," Horner said. "So if the regulations change and become a little bit more open and more enticing then perhaps that will whet his appetite to get further involved.
"But I think he's at a stage in his career and life where he's enjoying the prospect of a couple of new challenges as well, but at heart he's still a racer, still very passionate about Formula One and still extremely competitive."
Newey penned four consecutive championship-winning cars for Red Bull from 2010-2013 before the latest set of regulations saw Mercedes dominate last year, with Red Bull's competitiveness hampered by the Renault power unit.
Keep up to date with all the F1 news via Facebook and Twitter