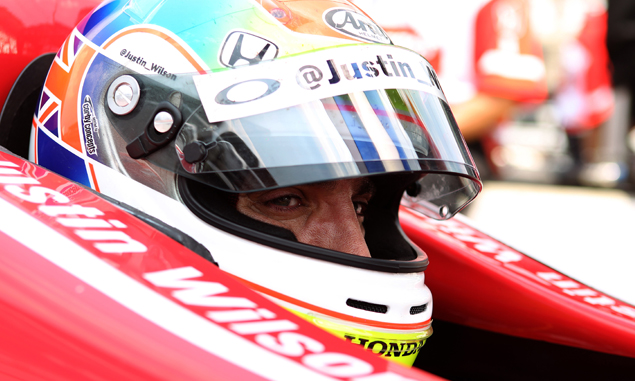 Ex-F1 racer Justin Wilson remains in a "critical condition" following the crash he suffered at the penultimate round of the 2015 IndyCar campaign held at Pocono Raceway on Sunday.
The former Minardi and Jaguar driver sustained a severe head injury when he was hit by debris flying off Sage Karam's car on Lap 179 of the 200-lap contest. Wilson was then immediately airlifted to a nearby hospital.
The latest official statement reads:
"IndyCar Series driver Justin Wilson remains hospitalized in a coma in the intensive care unit at Lehigh Valley Health Network Cedar Crest Hospital in Allentown, Pa., after sustaining a severe head injury during the Aug. 23 race at Pocono Raceway,"
"He remains in a critical condition.
"IndyCar continues to send its thoughts and prayers to the family and thanks the entire motorsports community for the outpouring of support.
"Additional updates to Wilson's condition will be released when available."
As new of Wilson's accident reached the F1 community, a growing number of drivers and teams have taken to their social channels and used the #PrayersForJustin hashtag to wish the Briton a speedy recovery.
We all pray for you Justin... All our thoughts go to you and your family... #keepfighting https://t.co/0azSm30pfl

— Jean-Eric Vergne (@JeanEricVergne) August 24, 2015
My thoughts are with @justin_wilson and his family. We are praying for a quick and full recovery. #PrayersForJustin

— Giedo van der Garde (@GvanderGarde) August 24, 2015
Toutes nos pensées et prières sont pour @justin_wilson. All our thoughts and prayers are with Justin Wilson. #PrayersForJustin

— Grand Prix F1 Canada (@GrandPrixF1Can) August 24, 2015
Echoing Felipe, all at @WilliamsRacing are wishing @Justin_Wilson the best https://t.co/CjeQdYpDvJ

— WILLIAMS RACING (@WilliamsRacing) August 24, 2015
We are with you @justin_wilson ! We wish you, as our former GPDA member, elite racer and foremost friend a full recovery! #RacingUnited

— Grand Prix Drivers (@GPDA_) August 24, 2015
Our thoughts and prayers are with @justin_wilson, his family and friends (2/2) pic.twitter.com/qsLsz6pr1M

— MERCEDES AMG F1 (@MercedesAMGF1) August 24, 2015
All my prayers go to @justin_wilson after his horrible accident at Pocono, I pray to God he pulls trough this one pic.twitter.com/6Y5ylVYf4H

— Rodolfo Gonzalez (@RSpeedyGonzalez) August 24, 2015
The motorsport community has been through a lot recently but all over the world we will stick together. Stay strong my man @justin_wilson

— Daniel Ricciardo (@danielricciardo) August 24, 2015
Honda Racing's prayers are with @justin_wilson a beloved member of the motorsport family. #PrayersForJustin

— Honda Racing F1 (@HondaRacingF1) August 24, 2015
All at McLaren-Honda pray ex-#F1 driver, #Indycar ace & great guy Justin Wilson will be OK after his #Pocono crash. pic.twitter.com/zs21bC5CLT

— McLaren (@McLarenF1) August 24, 2015
All our thoughts are with @justin_wilson and his family at this moment. We are praying for a quick and full recovery! #PrayersForJustin

— Sahara Force India (@ForceIndiaF1) August 24, 2015
Lets all pray that Justin Wilson pulls through this. #PrayForJustin

— Kevin Magnussen (@KevinMagnussen) August 24, 2015
Keep fighting @justin_wilson. We're all pulling for you mate.. Thoughts with Justin's family at this difficult time #PrayersForJustin

— Jenson Button (@JensonButton) August 24, 2015