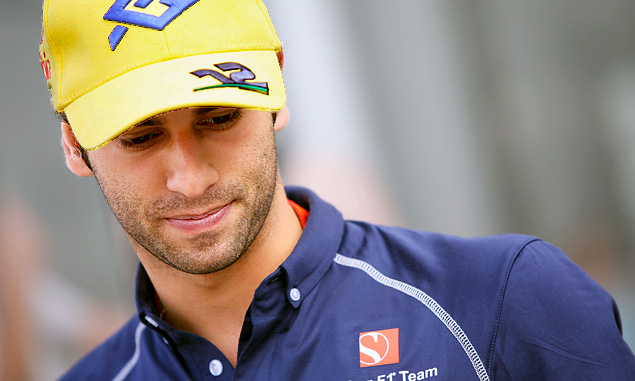 Former Sauber driver Felipe Nasr says that he fears Brazil's historic place in Formula 1 is under threat.
Felipe Massa is the last Brazilian driver left on the grid in 2017, after Nasr himself was unable to find a race seat. There are also rumours that the Brazilian Grand Prix's place on the F1 calendar is at risk.
The race has been a fixture on the F1 schedule since 1972. Three world champions have come from Brazil - Ayrton Senna, Nelson Piquet and Emerson Fittipaldi - while two-time runner-up Rubens Barrichello holds the record for the most races contested with 322 starts. Barrichello was also the last home winner of the Brazilian Grand Prix in 2009.
Now Nasr fears that the Brazilian heritage in motorsport might be about to wither.
"Brazil has such a part in the history of Formula 1. We just cannot let the legacy go," he said this week. "I'm pretty sure the country sees it that way."
Naturally Nasr wants to be part of that ongoing Brazilian presence in Formula 1. It was Nasr's ninth place in last year's Brazilian Grand Prix that put Sauber ahead of Manor in the constructors championship. That result led directly to the smaller team's demise over the winter.
"I know how much those points were valuable, and how much work I put into those points," Nasr said. "If you look at the numbers, I had two great years in Formula 1.
"Every several single opportunity I had, I took.
"I'm ready now if I have to jump in a Formula 1 car tomorrow," he said, adding that he was talking to teams about potential return. "It's just a question of time ... There is a lot of commercial interest behind it and you have to put things together."
Nasr confirmed he was also looking into opportunities in Formula E and IndyCar, and also the FIA World Endurance Championship. But if he were to move on, and if Massa retires at the end of 2017, then there must be fresh talent from Brazil to step in.
"I'm also concerned for the younger generation because Brazil has such a part in the history of Formula 1," he said. "We shouldn't stop finding new drivers to come up.
Sergio Sette Camara is currently competing in Formula 2 with MP Motorsport but is yet to finish in the points. Emerson Fittipaldi's grandson Pietro is currently in second place in the World Series Formula V8 3.5 championship after winning back-to-back races at Silverstone.
GALLERY: Alonso's Indy 500 challenger
Keep up to date with all the F1 news via Facebook and Twitter