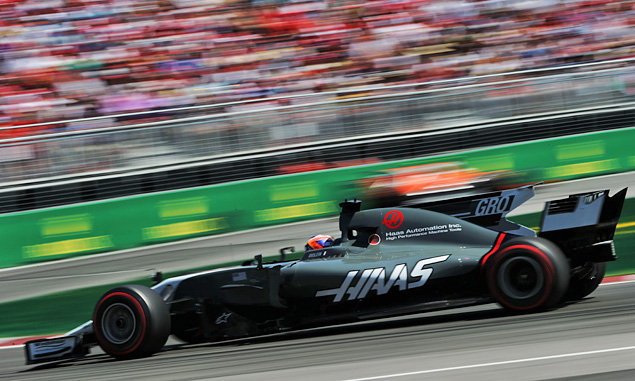 The Haas F1 Team is still working on deciding which brake package is best for them going into the second half of the 2017 season.
The team has been suffering from brake issues all year. Romain Grosjean has been most badly affected, with Kevin Magnussen more successful at working around the problems.
Last time out at Silverstone, Grosjean ran brakes from new suppliers Carbon Industrie in the British Grand Prix. By contrast, Magnussen stuck with Haas' original brake providers Brembo, having sat out FP1 in favour of development driver Antonio Giovinazzi.
"It's never easy to change brakes on a race weekend," admitted Grosjean. "It changes much more than just the brakes with things like mapping and adjusting the set-up.
"I think we got some good results from the CI package. Whatever we were running with Brembo, with the right spec and the right temperatures it wasn't too bad."
With less track time in free practice, Magnussen was non-committal about which way he would go on brakes this week. He said, "We're still working on it."
Team principal Guenther Steiner explained that more investigation was needed by the team as a whole.
"We made one step toward understanding the new brakes," he explained. "There is a second step because in Silverstone there is no hard braking. It's one of the circuits where you use the brakes less than in all of the other circuits.
"Hungary is the opposite. You use the brakes quite a bit and you have no time to cool them down because there are no big straights.
"You need to get your brake package in the right window so you're not putting too much energy into the tyres from the brakes.
"The driver just needs to always see that he gets them in the window, especially in qualifying, so when you cross the finish line for your fast lap, you have the right temperature in them.
"So we continue our testing and see where we get in FP1 and FP2, and then decide what we are going to do for the race.
"We will only know that after FP1 and FP2 because we are in the phase of evaluating and testing brakes," he continued. "It depends a little on the driver feeling.
"At Silverstone, Kevin preferred to stay with the Brembo brakes because he knew them better. He did not do FP1, so he was more comfortable with them. But again, I don't know what will happen in Hungary until after FP1 and FP2."

GALLERY: F1 drivers' wives and girlfriends
Keep up to date with all the F1 news via Facebook and Twitter