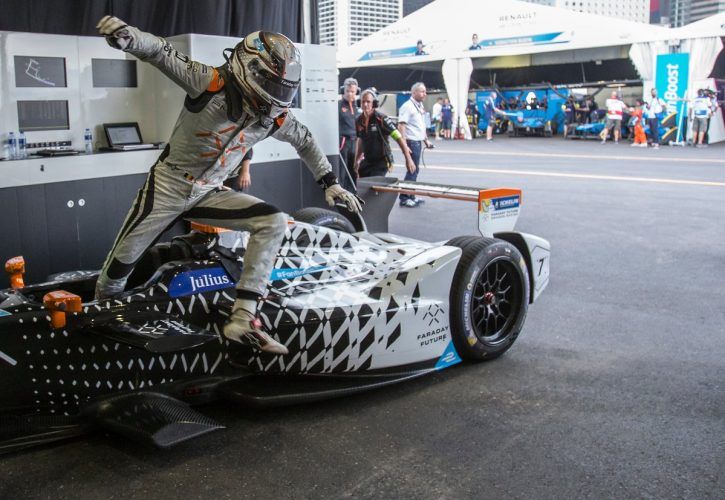 Lucas di Grassi has called into question Formula E's sudden decision to scrap the series' minimum pitstop time, believing the change should have occurred before the season got underway.
The all-electric series' mandatory mid-race car swap has always been ruled by a minimum pitstop time, calculated from pitlane entry to pitlane exit, which was implemented to prevent drivers from rushing their car changes.
Given teams improved efficiency over the years, the FIA has simply decided to scrap the minimum time from this weekend's third round in Marrakesh.
Last season's champion Lucas di Grassi agrees in principle with the governing body's decision, but questions its timing.
"I'm in favour of the concept but if they do such a change they should do it before the beginning of the season," the Audi Sport Abt driver told Motorsport.com.
"If you do it before the season you have chance to optimise everything. A change like this will be a gamble for everyone. It will make life more complicated for Marrakech, for sure."
DS Virgin driver Sam Bird argued that some drivers may now be inclined to take extra risks to gain time, mainly by not properly securing their seat belts.
"From an excitement point of view, for fans, I suppose it makes sense," said the Briton.
"However from a safety aspect, for me, it's not ideal. There's nothing stopping drivers not doing the bottom belts up in order to gain time, and then that becomes extremely dangerous.
"If things like this start to be ignored then it's not the right thing to do."
Di Grassi voiced Bird's concerns and suggested the use of specific LMP or GT belts .
"The current belts are standard single-seater belts that are not designed for a quick change," he said.
"In LMP or GT you have a different buckle system, it's much more simple and effective.
"I'm sure I will never risk not having the belts done up properly. But because the belts are not made to go this way, if the mechanic does not do it properly or tries to do it too quickly under pressure, it could take 15 or 20 seconds to do it all over again.
"It's part of the game, but it should not be part of losing the race."
Gallery: The beautiful wives and girlfriends of F1 drivers
Keep up to date with all the F1 news via Facebook and Twitter