A big part of Renault's efforts over the winter have focused on boosting the reliability of its package, a tougher task than the quest for performance says tech boss Bob Bell.
The French manufacturer made significant progress last season, especially over the summer following a major aero upgrade at the British GP.
But it was also a case of the team's weaknesses and vulnerabilities eating in to its results, and that will hopefully change this season.
"We need a strong reliability record," said Bell.
"That's something we need to focus on, and we have worked hard on it over the winter. We need the car as reliable as we can make it.
"That's a huge challenge, even more so than performance development, and it's the toughest task we face.
"To improve reliability, we have to accept nothing less than perfection. Anything that ends up on the car needs to be designed and built to the highest standard; checked and rechecked as fit for purpose.
"All the issues which blighted us last year need to be eradicated by a fresh approach. It's not something however that you can flick on like a switch, you need well established processes in place."
Bell says the ability for the team to accumulate abundant mileage in pre-season testing which kicks off next week will prove invaluable towards the goal of validating its work and building its reliability.
"We want a trouble-free winter test programme so we can validate the performance of the car and move forward," he said.
"To do this we need a reliable car and that's one of the key goals for the Renault RS18."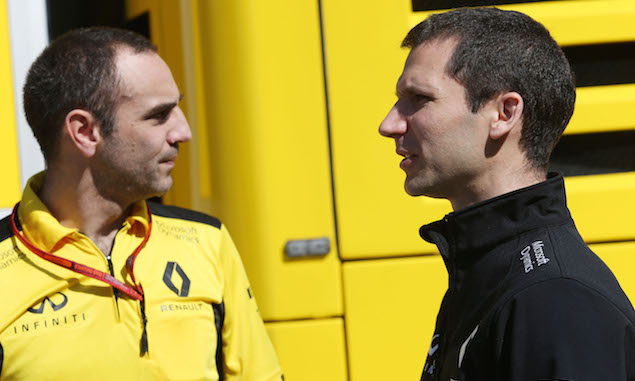 On the power unit front, the engine department in Viry, led by ReliTtaffin, spared no effort to achieve the best possible balance between output and durability, especially in light of the three-engine limit imposed this year.
"We did see our power unit on the top step of the podium three times last year, so it's clear we have the potential to achieve our aspirations," said Taffin.
"We just need to raise our game across the board, and all the elements we need to do this are there.
"Our first priority is for reliability and it's going to be even more difficult as we have to get another quarter out of the engine life on top of the target for 2017. Of course, we knew the three engine rule was going to come, so it's something we scaled in for 2017 in preparation for 2018.
"We started designing the 2018 engine in 2016 with the three engine limitation in mind and we have completed more hours on the dyno than ever before."
Gallery: The beautiful wives and girlfriends of F1 drivers
Keep up to date with all the F1 news via Facebook and Twitter