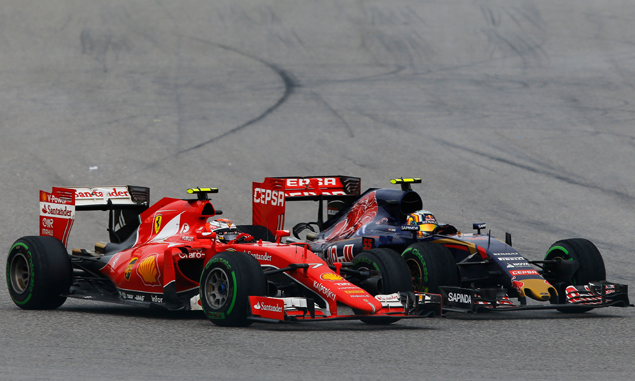 Kimi Raikkonen asks for a clarification of the Formula One rules when it comes to fighting on track in the wake of his US Grand Prix battle with Max Verstappen.
Having to serve a grid penalty for using an upgraded Ferrari power unit, the Finn only started 18th at Austin but a chaotic opening lap immediately elevated him to the points-paying positions.
Raikkonen soon encountered Verstappen up the road, with the pair engaging in thrilling wheel-to-wheel action over several laps. The 2007 world champion rapidly grew annoyed at the Toro Rosso rookie's defensive antics though, shouting over team radio "that guy keeps pushing me off the circuit every time I am near him. So if that's legal I'll try it next time…"
"With Verstappen what I wanted to know was whether this is OK, when you're next to another car, to push him over the kerb," Raikkonen told reporters after the race. "Obviously he's trying to defend when I'm trying to pass on the outside. It was fine, apparently it's OK, so it was fine. As long as everybody has the same rules it doesn't matter.
"You have so many rules these days in Formula One, you have rules saying you shouldn't change line under braking, you should leave the other car enough room, one car space, but you're not leaving space if you're pushing the other guy wide."
Raikkonen has already been involved in several close battles in 2015, the previous one earning him a penalty for punting Williams' Valtteri Bottas off track at Sochi.
Earlier this year, Daniel Ricciardo had tapped the 36-year-old's right rear to gain a position at Monaco but no further action had been taken against the Red Bull driver.
Raikkonen, who also battled it out with Verstappen's team-mate Carlos Sainz (see picture) at COTA, is not one to shy away from a fight but wishes there were more consistency in the race stewards' decisions.
"I don't complain; it's fine. But it's not fine if the next time I do the same to someone else, I get penalised – that's the issue. You can do a lot of things, depending on the person, and then someone else does the same and gets penalised – that's not fine.
"I don't complain about what [Verstappen] did but it should be clearer, so we know what we can do and what we can't do. I think we touched once, slightly, but it was fine. It's racing, in the end, and I don't mind, but it was really a close one."
Hamilton takes title after dramatic USGP victory
Lewis Hamilton: Three-time F1 world champion
AS IT HAPPENED: United States Grand Prix
Click here for the F1 drivers' girlfriends gallery
Keep up to date with all the F1 news via Facebook and Twitter