Nearly 42 years to the day after his life-threatening accident at the Nurburgring, it was another close call for F1 legend Niki Lauda following a lung disease that necessitated an organ transplant.
Lauda is in recovery mode at Vienna's General Hospital after undergoing heavy surgery last week, and doctors have now detailed the circumstances surrounding the three-time F1 world champion's sudden illness and subsequent brush with death.
"Mr Lauda suffered from a so-called haemorrhagic alveolitis," explained Marco Idzko, the head of the Vienna hospital's pulmonology unit.
"This is an inflammation of the alveoli [the air sacs inside the lungs], which has been accompanied by bleeding into the pulmonary tissue and respiratory tract."
Lauda's illness was treated with immunosuppressive therapy, the 69-year-old's condition improving immediately.
However, an acute lung disease set in thereafter, with immune cells moving from Lauda's blood into his lungs and attacking their tissue.
"This ultimately leads to the destruction and loss of functional lung tissue – and the patient is no longer able to absorb enough oxygen through his lungs," added Idzko, who emphasized the high mortality rate usually associated with such a disorder.
Lauda was then given mechanical ventilation to counter his respiratory weakness.
"Unfortunately, after 10 days in intensive care, because of a critical oxygen supply, therapy escalated," said cardiologist Gottfried Heinz.
"We had to perform a mechanical lung replacement, an ECMO – an extracorporeal membrane oxygenation."
Without an urgent lung transplant, Lauda would have been facing a certain death, just days away. Assigned a high LAS (the urgency rating or Lung Allocation Score), the Austrian was dependent on the swift availability of an organ.
"We could assume that he would be assigned an suitable organ within the next few days," said thoracic surgeon Konrad Hotzenecker, who performed the surgery transplant last week along with his colleague Walter Klepetko.
"The average waiting time in this case is five days."
The outcome of the surgery transplant was positive, with no signs of rejection or complications linked to the organ.
"The lung has an excellent primary function, so that we were able to remove the circulatory support, the ECMO, in the operating theatre," explained Hotzenecker. "The graft lung has taken over its function well."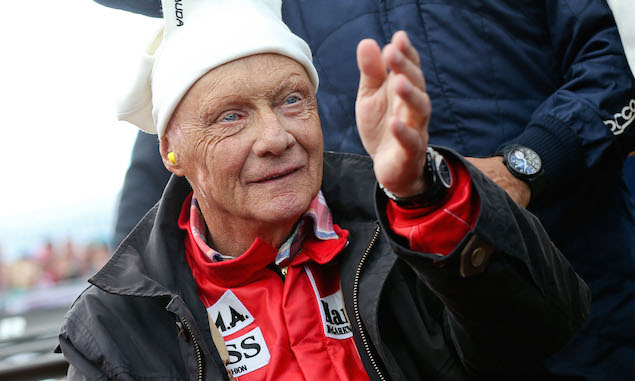 Lauda's condition pleased the doctors who extubated him after just 24 hours, enabling him to breathe spontaneously.
"This is extremely important for us and for the entire healing process as well," said cardiology director Christian Hengstenberg.
"We can see that he is fully conscious and that all the institutions are functioning properly. Everything is completely in order. It's a very, very gratifying development."
Lauda is expected to make a full recovery, although the standard two to three-week recovery period will likely be extended because of his former complications.
"Our survival rates are over 90 percent after one year, and around 75 percent after five years," said thoracic surgeon Peter Jaksch, who also confirmed that transplanted patients usually enjoy a good quality of life.
"Future activities should not differ significantly from previous activities – if all goes well," said Walter Klepetko.
"The situation is such that we really expect him to be able to return to a life that is normal for him. Time will tell whether we will reach our goal."
Gallery: The beautiful wives and girlfriends of F1 drivers
Keep up to date with all the F1 news via Facebook and Twitter