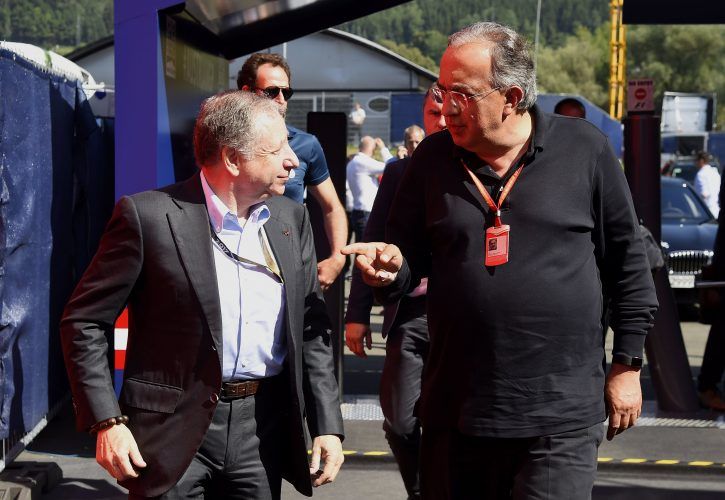 FIA president Jean Todt has revealed that Sergio Marchionne had been feeling much more positive about Ferrari's future in Formula 1 before his sudden death.
The former Ferrari chairman passed away in July, after suffering serious complications following surgery.
He had been an outspoken critic of the direction of the sport under its new owners Liberty, and threatened on several occasions to pull Ferrari out of Formula 1 if a better solution couldn't be found.
But Todt said this week that Marchionne had been feeling a lot happier with how things were going in the weeks before he passed away.
"On June 28 we had a dinner in my office in Geneva," Todt revealed. "It was him, [Liberty CEO] Chase Carey and myself, to speak about the future of F1.
"And on the 29th, he sent me as SMS to say it was a great meeting, and 'we will move positively for the sport'."
"Normally this dinner was due to be on the Sunday night after the Austrian GP," he added. "But he sent me a message to say unfortunately he could not make it, could we change and do it before? So we did it on the 28th.
"I am sure about those dates. But I am not sure about when he went to hospital," Todt said. "And then the tragedy occurred.
"It is a big loss," Todt admitted. "Not only about all that he did for the industry, but the passion he had and with his style which he had.
"For me he was somebody with a great personality.
"I used to work with him before I was appointed as president of the FIA. We did not always agree, but in the end I quite liked him and I had a lot of respect for him."
John Elkann was named as Marchionne's successor as chairman of Ferrari, while Louis Carey Camilleri has become chief executive.
The new management has signalled a more conciliatory approach toward Formula 1, and hasn't repeated Marchionne's former threats to quit. Todt is confident that a deal will be reached that satisfies all parties.
"[Camilleri] is a very bright person," he said. "He loves motor racing. Clearly it will be a completely different style, but he is a great, very talented businessman.
"He is a very straightforward person. I am sure as FOM wants, as FIA wants, as I feel the team wants and Ferrari wants, we will be able to do a good job.
"I am very optimistic," he added.
Gallery: The beautiful wives and girlfriends of F1 drivers
Keep up to date with all the F1 news via Facebook and Twitter