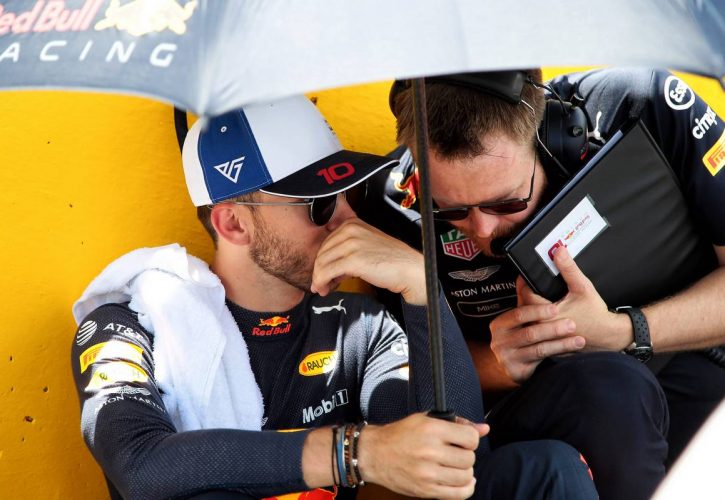 Red Bull's Pierre Gasly intends to sit down with his team - again - to try and understand the reasons behind his inconsistent pace.
Gasly's Hungarian Grand Prix weekend was looking good following the Frenchman's Friday sessions, the second of which was disrupted by changing weather conditions but topped by the Red Bull driver.
It was all downhill from there however, with Gasly qualifying sixth, 0.878s from poleman Max Verstappen, and finishing in the same position on race day after being lapped by his teammate.
"It started pretty well during the weekend, and then from FP3 onwards, I just lost a lot of pace and struggled a lot more with grip in general," said Gasly.
"Qualifying was difficult, it was already the case. It was not maximised, but we clearly didn't have the similar pace to fight at the top, and [in the race] was again the same.
Gasly's season hasn't lived up to expectations, but a sit-down with his team after Austria boosted the 23-year-old's confidence and speed at Silverstone, where a spirited drive delivered a P4 finish to the Red Bull driver.
Gasly will talk with his crews once again to try and unravel the reasons behind his pace deficit relative to Verstappen.
"We need to analyse, because on Friday we had decent pace.
"For sure, Max had decent pace [as well], but then we just lost massively from FP3 and just struggled with the grip a lot.
"So at the moment, I think we just need to sit down with the guys and work all together to find out what went wrong and then come back stronger for Spa."
For Gasly, the crux of the matter seems to be his unpredictable level of confidence in his RB15's behavior.
"For me it is like there is [confidence] sometimes, and then sometimes it goes away," he admitted.
"We will try to find a bit more consistency in that feeling, and we will have a couple of weeks with the guys to really understand everything, and understand when we are fast and when we are not, for what reasons, and make sure we come back stronger."
Gallery: The beautiful wives and girlfriends of F1 drivers
Keep up to date with all the F1 news via Facebook and Twitter