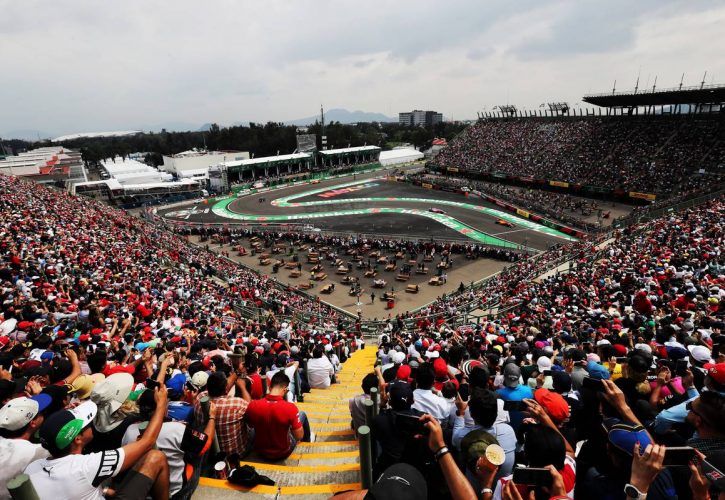 As expected, Formula 1 has announced that Mexico City will remain the home of Grand Prix racing in the country until at least the end of 2022.
The new agreement was signed earlier today between The Formula One Group, the Corporacion Interamericana de Entretenimiento (CIE), the promoter of the event, and the Government of Mexico City.
"We are pleased to have renewed our partnership with Mexico City, which will now host the Formula 1 Mexican Grand Prix until at least 2022," said F1 CEO Chase carey.
"Ever since it returned to the championship calendar in 2015, this event has always proved to be amazingly popular with the public and fans, not just in Mexico, but also around the world.
"Proof of this is the fact that the race promoter has won the FIA award for the best event no fewer than four years in a row and, in those four years, over 1.3 million spectators have attended the Grand Prix.
"The Grand Prix has also been an important economic driver for the city, reinforcing its credentials as a centre for tourism.
"I would like to thank the Mayor, Claudia Sheinbaum Pardo and the entire government of Mexico City for all their efforts in ensuring that Formula 1 continues in Mexico and I look forward to seeing another big crowd of fans at the Autodromo Hermanos Rodriguez from 25 to 27 October for the Formula 1 Gran Premio de Mexico 2019."
Over 1.3 million fans have attended the Mexican Grand Prix since its return to the sport's calendar in 2015, validating the race's immense popularity.
"The presence of Formula 1 in the city for further three more years, was achieved for the first time through a new financing model in which public resources are not used," revealed Claudia Sheinbaum Pardo, the Mayor of Mexico City.
"Previously the Federal Government collaborated with the payment for the event.
"The Mexico City government will be an intermediary, creating a trust that will raise the private investment required to deliver this international event.
"The price of the tickets will remain the same as in previous years."
The 2020 calendar is slowly but surely taking form, with Spain, Germany and Italy still to be confirmed.
Monza has agreed in principle on a new deal with F1, while Barcelona is also hopeful of  keeping its spot on the docket. However, Hockenheim is in serious doubt with the race's organizers still seeking funding for their event.
Gallery: The beautiful wives and girlfriends of F1 drivers
Keep up to date with all the F1 news via Facebook and Twitter