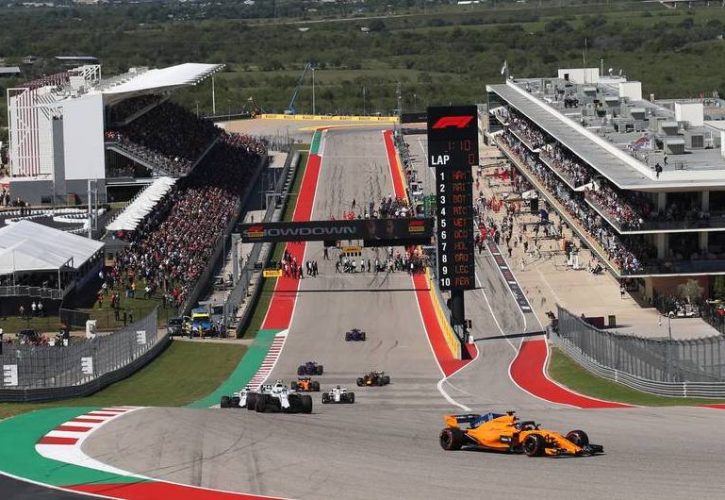 Circuit of The Americas boss Bobby Epstein says the US Grand Prix in Austin is on track for record ticket sales, with the event getting a big boost from the success of Netflix's 'Drive to Survive' series.
In early November, COTA will host its eighth USGP, with event gaining momentum over the years to become one of the most popular venues on the F1 world championship schedule.
Since 2012, despite a rain washed-out race weekend in 2015 and a failed attempt to secure $25 million in public money it was denied in 2018, COTA has put F1 back on the map in America.
"I think it's right to say F1 wouldn't exist in the U.S. right now if we hadn't built a home for it here at COTA," Epstein told ESPN.
"You just have to look at what we've done in U.S. and helping to build a fan base here -- before ticket sales had been falling and it had been difficult for any circuit to establish itself as the home of F1."
A state-of-the-art facility, a challenging lay-out producing great races and savyy marketing centered around a music entertainment component have ensured ramping ticket sales for the US Grand Prix.
But this year's box office has also been boosted by a complimentary and massive promotion delivered by Netflix and its successful 'Drive to Survive' series which chronicles the 2018 F1 season and was an instant hit with the sport's fan community when it was released earlier this year.
"We are on track to have the biggest attendance of any race so far -- the reserved seats already sold out in July," said Epstein.
"We are thinking of where we can build new grandstands to accommodate more fans."
"There's a lot of reasons for that -- we have the music entertainment element which has been a huge help, but the fact we have built a base here at COTA is massive.
"We have established a good history, made it a tradition to come and race here.
"Looking beyond that, the Netflix series has been the biggest boost for U.S. fans we have had in terms of ticket sales.
"All our surveys on new customers suggest it's had a huge impact and a big benefit to F1.
"It really was a stroke of genius to get that put on. It's why we broadened what was offered on a weekend, in order to bring different people to the event, but the Netflix series has reached people we might never have reached otherwise."
Looking towards the future, COTA's deal with F1 will expire in 2021. But Epstein has no doubt an extension is on the cards
"I think a shorter deal is better for both parties, you don't want to get locked into something that you don't like down the line," said the COTA chief.
"We also can never be sure how the event or how the sport will evolve over the next few years.
"What I will say is, I think there will be an F1 race at COTA for as long as the track is there, that's the benefit of building a permanent facility."
Gallery: The beautiful wives and girlfriends of F1 drivers
Keep up to date with all the F1 news via Facebook and Twitter