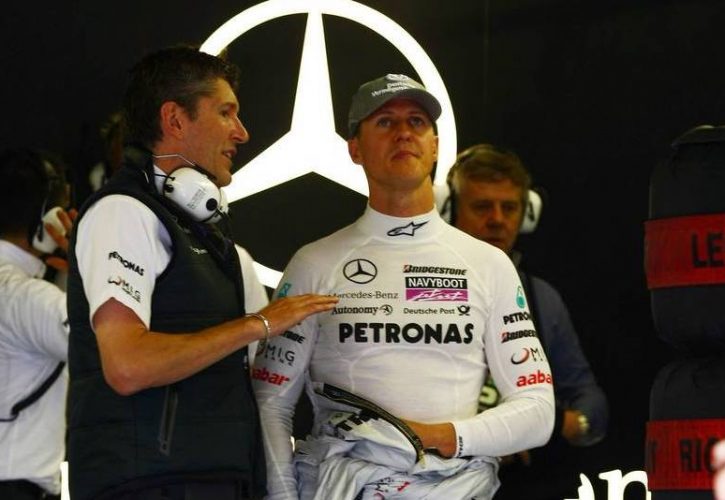 Nick Fry, who managed the Mercedes F1 squad during the period when Michael Schumacher drove for the outfit, says the former driver's family should open up to the public about his condition.
Since the seven-time world champion's skiing accident at the end of 2013, wife Corrina and manager Sabine Kehm have enforced a wall of secrecy around Schumacher's health, with scarce details limited to the family's rare official statements.
A report from French newspaper Le Parisien revealed on Monday that Schumacher had been admitted to the cardiovascular unit of a Paris hospital for a special stem cell therapy, although the family would not confirm the report.
Fry has authored a book called 'Survive. Drive. Win.', scheduled to be released next month in which the former Mercedes man takes a stand against the Schumacher family, lamenting its reluctance to reveal information on the F1 legend.
"Corinna and the family have kept a very tight control on information about his treatment which, I think, is a pity," Fry wrote, according to a preview seen by the PA News agency.
"There are millions of people out there who have a genuine affection for Michael, and that's not just his fans in Germany or fans of Mercedes Benz.
"Because of what he achieved, people would like to know about his condition; they are inquisitive and they genuinely feel for him.
"I do think that reporting on how he is, regardless of whether it is good or bad news – and possibly it is bad news – is important because people can empathise with him."
Fry worked alongside Schumacher at Mercedes for three years before he was replaced at the helm of the Silver Arrows team by Toto Wolff in March 2013.
"From what I understand, Michael's family have been able to give him the best treatment that money can buy in a specially constructed facility at the family home in Switzerland where he is looked after by a dedicated team around the clock," Fry added.
"I am sure that techniques and therapies have been developed and tried there over the last few years that may well help others.
"It would be helpful for his family to share how they have dealt with this challenge because there are lots of people in a similar situation who would probably find it beneficial to have that first-hand experience."
Keep up to date with all the F1 news via Facebook and Twitter