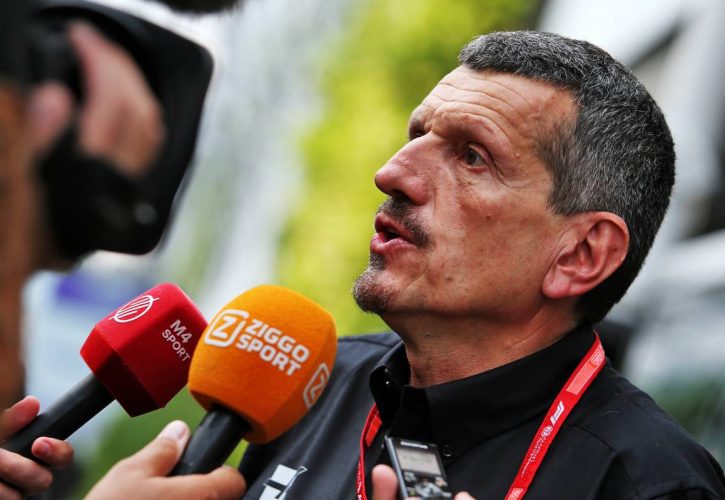 Haas boss Guenther Steiner says the US outfit shied away from hiring Nico Hulkenberg because it was reluctant to "introduce a new element" into the team given the issues impacting its VF19.
Both Kevin Magnussen and Romain Grosjean have struggled this season to come to grips with the chronic inconsistency of Haas' VF19 chassis.
The frustrating troubles have left the team short on points and in search of answers to the mysterious tyre problems that have undermined its season.
While Magnussen's deal with Haas was signed and sealed a long time ago, Grosjean's future appeared very uncertain, especially as outbound Renault driver Hulkenberg emerged on the scene.
Ultimately, Haas has elected for a status quo which Steiner explained by the necessity for the team to preserve a constancy and steadiness in light of its ongoing chassis conundrum.
"It was a close call, you know, because they are both very good drivers and I hope Nico stays in F1," Steiner admitted.
"I like him and he's a good driver, but in the end we decided to stay with Romain.
"He is with the team for four years, we know his highs and his lows. We know on a good day he's a very good driver. He knows the team very well.
"The biggest reason is our car this year is not performing as we want it to perform - which in the end has nothing to do with the drivers we've got at the moment. It's the car, we're very conscious about that.
"Now changing the driver, I don't know if it would help us make the car better. It could, but it could also not. Because the new guy wouldn't know where we start off.
"Romain was a big part of getting the understanding of why we are wrong with the car at the moment. He was a big help. And we didn't want to have any more unknowns or risks."
For Steiner, as talented as Hulkenberg is perceived to be by the Italian, introducing an unknown quantity was seen as counterproductive.
"The main thing was that one," he added. "Do we want to make this step and introduce a new element to the team?
"That was the main reason why we stayed with Romain. Because we know what we've got."
Steiner also made clear that, while talks had taken place with Hulkenberg, no formal offer was ever sent to the German.
"We decided to take Romain but I don't know if Nico would've come," he insisted.
"We spoke but we never made a formal offer. So, I don't know if he would've accepted or not, that you need to ask him."
Gallery: The beautiful wives and girlfriends of F1 drivers
Keep up to date with all the F1 news via Facebook and Twitter