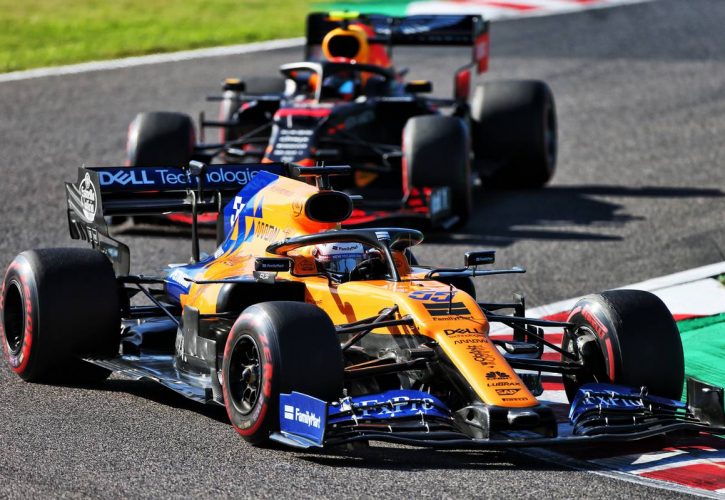 Carlos Sainz described his Sunday in Suzuka as "a perfect day" after the McLaren driver followed up his positive qualifying performance in the morning with a flawless run to P5 in the afternoon.
In the commotion of the opening lap, marked by Sebastian Vettel's botched launch off the grid and a Turn 2 clash between Max Verstappen and Charles Leclerc, Sainz emerged fourth, hot on the heels of the Mercedes of Lewis Hamilton.
Red Bull's Alex Albon would eventually overhaul the Spaniard later in the day but Leclerc was kept at bay during the closing stages of a race in which Sainz was rewarded with his third fifth-place finish of the season.
"Honestly it's been a perfect day," enthused the McLaren driver when all was said and done.
"Qualifying lap was clean, the start was clean and then the race, I managed to extend the first stint a lot, and that gave me opportunities to be strong at the end of the race with the medium tyre.
"The second stint was especially strong, with very good pace.
"When Albon and Leclerc pitted, one in front and one behind me, to manage to hold to their pace was probably the nicest surprise of the year, nicest surprise for the team, to manage to have that space, and to manage to match the pace of Leclerc and Albon for those laps was very special."
McLaren F1 boss Andreas Seidl was very impressed with Sainz's race and his team's overall performance.
"Great execution today from the entire team, and 10 more points in the bag, extending our lead over the teams with whom we are fighting in the Constructors' Championship," said Seidl.
"It was a sensational drive from Carlos to P5.
"The team here at the track, together with the support from home, put in a lot of hard work to get the best out of an unusual weekend – and a very long Sunday!
"The car was strong here and we're really looking forward to the final four races."
Gallery: The beautiful wives and girlfriends of F1 drivers
Keep up to date with all the F1 news via Facebook and Twitter