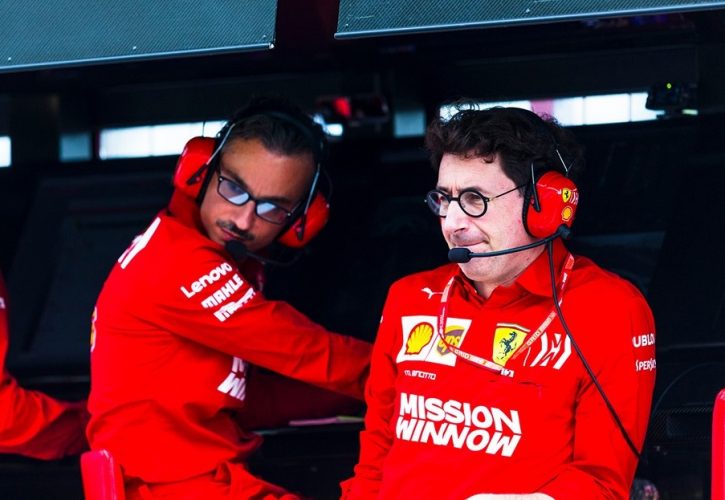 Former Ferrari driver Gerhard Berger believes Scuderia boss Mattia Binotto is lacking a strong group of individuals around him to whom he could delegate part of his responsibilities.
Binotto's broad all-encompassing role which covers technical, political and strategic duties is being questioned in light of Ferrari's inability to challenge the might Mercedes squad.
While the Swiss engineer has demonstrated his leadership qualities, Binotto's multi-tasking approach is somewhat of an incongruity compared to Maranello's past management structures or other F1 teams' organisations.
"I like Mattia Binotto, he was on my cars as an engineer already, so nice guy, also clever guy, also good guy," said Berger, speaking on the latest F1 Nation podcast.
"But when you compare Ferrari having one leading person like Binotto, on the technical side, on the political side, on the race strategy side and so on, at Red Bull you have a Christian Horner, extremely competitive, you have Adrian Newey, genius in his area, you have a Helmut Marko, a shark having all the motorsport experience.
"If you take Mercedes, the same thing. Andy Cowell, Niki Lauda, Toto Wolff. Everybody at the same time, improving the team. Political, technical, and whatever."
Berger believes it would be in the Scuderia's interest to strengthen its management structure and lighten Binotto's burden.
"I'm wondering if the setup of Ferrari is strong enough. It's been always like this, even when you go back to Ferrari [under] Jean Todt.
"OK, he was politically very clever. He was at the max all the time, he was doing all the stuff. [Making sure] the Japanese [were] on the tyre work, we had Bridgestone at the time, and so on. And you had Ross Brawn. Fantastic and knowledgeable guy.
"And you had Rory Byrne, one of the best engineers ever been in Formula 1. And you had Michael Schumacher.
"So you see, it's this group what it needs to really move a team into a championship team."
Gallery: The beautiful wives and girlfriends of F1 drivers
Keep up to date with all the F1 news via Facebook and Twitter