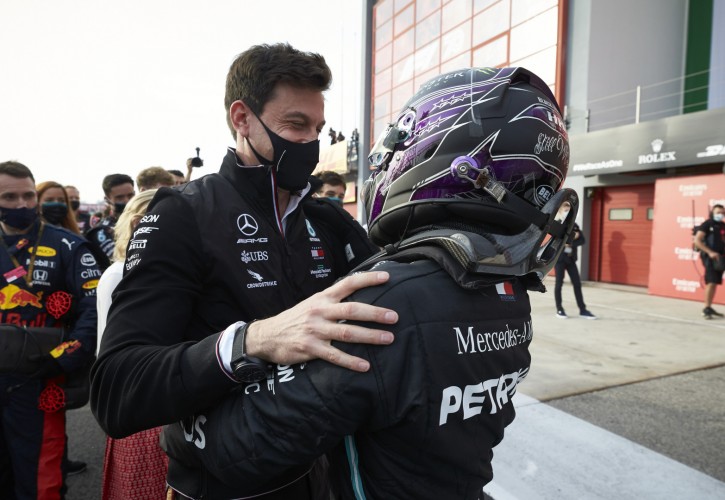 Mercedes F1 boss Toto Wolff alleviated fears that the seven-time world championship winning team could lose its figurehead and its star driver, insisting Lewis Hamilton and himself are "not finished" with F1.
In the wake of the Brackley squad's seventh consecutive crowing at Imola, courtesy of Hamilton's 93rd career win in F1, the Briton sent a small shockwave through the paddock when he told reporters that there were no guarantees that he would still be on the grid next season.
Hamilton has yet to commit to the future with the German outfit, a state of affairs that also applies to Wolff.
"I don't even know if I'm going to be here next year, so it's not really a concern for me at the moment," Hamilton said when asked about Wolff's potential departure from the helm of his team.
"We have a lot of deep conversations, Toto and I, so I'm very aware of where he is mentally, and we share a lot of and carry a lot of the weight together I think.
"I've been here a long, long time. I can definitely understand wanting to pull back a little bit and giving more time to family and those sort of things."
Hamilton's comments immediately fueled speculation that the 35-year-old could pull "a Rosberg" and unexpectedly ride off into the sunset at the end of the season.
But Wolff was quick to dismiss that assumption, insisting Hamilton and himself were not done with the job of winning in Formula 1.
"I think we go together in a way," said Wolff on Sunday. "We have a symbiosis and obviously it's important where our heart is and mindset is for next year.
"But I've said that this is my team. I'm in a very proud corner with Mercedes and I'm not going to go anywhere.
"My role may change in the future, and it's something that he is asked and, and I think nothing is ever secure.
"It was like Niki Lauda in the 1970's: you could wake up one morning on a Friday or Saturday morning on a track and say: 'I'm just not having fun anymore.' And I think that can happen to anybody.
"But we want to continue this journey. We are not finished. Lewis and I and all the team, we're not finished."
Pressed on why neither himself or Hamilton had put pen to paper so far with Mercedes to seal their future, the 48-year-old Austrian justified the delay by his team's unwavering commitment and priority to securing the Constructors' and drivers' world title.
"With Mercedes and I, we are pretty much clear: it's just down to putting pen on the paper at the right moment," Wolff explained.
"I was also concentrated on bringing these championships home and it always feels not right to spend days with lawyers and M&A [mergers and acquisitions] people, when I'm so focused on just what's happening on track.
"I think that this is where Lewis and I are very similar. It just didn't feel the right opportune moment to sit down before those championships were not done.
"And there will be a moment when the drivers' championship is going to be decided, to sit down. And we have a few months before the first race happens in Australia."
Gallery: The beautiful wives and girlfriends of F1 drivers
Keep up to date with all the F1 news via Facebook and Twitter