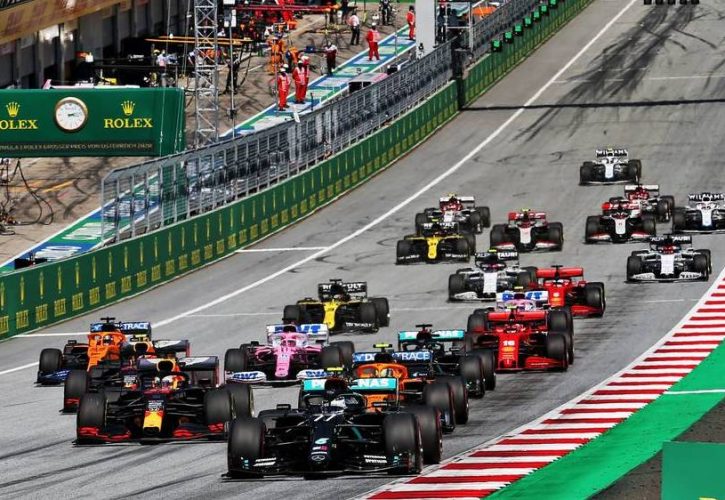 Formula 1 chief executive Stefano Domenicali says the sport is in discussions with new manufacturers "keen to understand" the benefits of Grand Prix racing's platform.
The last automobile manufacturer to enter the sport - or rather return to F1 - was Honda in 2015, while Renault boosted its presence as an engine supplier by taking over Lotus in 2016 and fielding a works effort.
As for F1's teams, Haas is the most recent outfit to have joined the grid, also starting its big adventure in F1 in 2016.
While Aston Martin will be a new name joining the fray this year, the legendary British sportscar maker will be lending its brand to Racing Point F1, the team owned by Aston executive chairman Lawrence Stroll.
The automotive industry's paradigm shift to electrification would perhaps appear as a deterrent for manufacturers to enter Formula 1. But the sport's inherent visibility and global platform, and the promise of a new era sitting on the 2022 horizon, continues to garner the interest of outside manufacturers according to Domenicali.
"I think one of the biggest challenges that automotive manufacturers have today is to feel younger," the F1 boss told Sky F1's Martin Brundle.
"There is this kind of fight between the old school of OEM [Original Equipment Manufacturers] and the new OEMs that are coming in the mobility side.
"But I think the OEMs can use the platform to get also the fresh image they maybe need for the future.
"What I can say is that we are in discussions with other manufacturers," added the former Lamborghini CEO.
"For the moment, they prefer to stay still quiet, but the good news is that there are other… companies, very important companies, that are really keen to understand what is the value that they can bring home using the F1 platform
"Not only in terms of technology, in terms of also the value of what Formula 1 can bring to the automotive manufacturer."
While F1 will usher in new technical regulations next year, the definition - and especially the cost - of F1's future power unit set to be introduced in 2025 or 2026 will likely significantly impact outside interest from potential manufacturers.
"It's not possible that the power unit in Formula 1 can cost what it is costing today," insisted Domenicali.
"I think there is a margin, a big margin on that, and one of the agendas we have is that we would like to involve teams and OEMs to try and anticipate the new engine even earlier than what is expected of the regulation, and make sure these kinds of things will be part of the agenda, and I'm sure we can do it."
Gallery: The beautiful wives and girlfriends of F1 drivers
Keep up to date with all the F1 news via Facebook and Twitter